Inclusive Design: Kitchen Appliances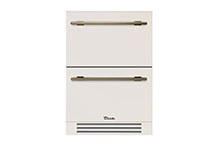 January 25, 2019
A big trend for 2019 is inclusive design, a philosophy that accommodates everyone from smallest to tallest and youngest to oldest. The beautiful thing about approaching interior design from an inclusive perspective is that it doesn't just focus on aging or physical disabilities but rather on creating design that makes a space safe and accessible to those who might have those disabilities now or in the future.
As a Certified Living in Place Professional (CLIPP), I believe inclusive design has the potential to be safe, accessible AND beautiful for all ages and motilities. When it comes to making a space accommodating and adaptable to any user, the kitchen is one of our favorites – with no gut renovation required! My favorite inclusive design kitchen appliances include:
1. True Residential Under-Counter Refrigerator Drawers: These compact fridges are positioned seamlessly under kitchen countertops and are a fine solution for people with height and mobility restrictions.

2. GE Monogram Freezer: This reputable kitchen brand has an icemaker located in a drawer that's placed higher up than your typical pull-out freezer and makes for simple scooping.
3. Thermador Freedom Induction Cooktop: The soft-touch interface on this sleek induction stovetop makes it easier for people with less dexterous hands to cook. This particular brand delivers 63 percent more usable surface area than the competition, with 48 coils measuring 3 inches each – the largest cooking surface on the market. Safety features include a childproof lock, pan recognition and a burn-proof surface.
4. GE Monogram 24-in. Stainless-Steel Dishwasher: When you open the door to this special dishwasher, bright LED lights illuminate the dishes so they're easier to see. Reversible tines mean that they can be adjusted to accommodate a sink location specific to your kitchen.
5. French-Door Ovens: French-door ovens open horizontally and have slide-out racks, making it incredibly easy to take things in and out of the oven. The GE Monogram 30-in. Professional French-Door Electric Convention Oven (#ZET1FHSS) is one of my favorite models to use with clients of all ages.
6. Under-Counter Microwave: Consider mounting your microwave – like this one from KitchenAid – in an easy-to-reach low cabinet with side-hinged doors to make reaching for food easier.