Industry Brands Collaborate for a Colleague
January 29, 2021
John Weinstein has been in the plumbing/kitchen and bath industry for almost 30 years, working with brands on distribution and helping them grow their sales channels in North America. For the past four years, he has served as the director of Franz Viegener, the high-end faucet and fixture brand whose precision-machined faucets are a favorite of architects and designers.
On April 9, 2020, the weather near Weinstein's family home in Philadelphia abruptly shifted from sunny and calm to a violent windstorm with 70-mph gusts that uprooted a large pine tree that fell directly onto his house. Sunny skies quickly returned, but the sudden storm left behind irreparable damage to the primary bedroom and bathroom, with branches coming through the ceiling of both areas after breaking eight trusses. Weinstein and his family were home at the time, but miraculously no one was injured. Insurance would only cover the structural damage and reinstallation of the original 20-plus-year-old fixtures. When he mentioned to an industry friend from Laufen that the bathroom was destroyed, his friend offered help in the way of new vanities and fixtures.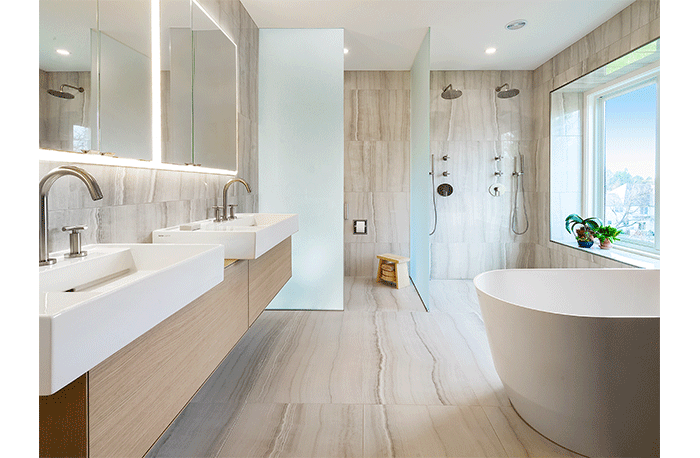 Other manufacturers who knew Weinstein began to offer their products, and the project soon turned into a collaborative showcase – particularly for brands that looked at this as an opportunity to introduce new products. Because the renovated bathroom would be professionally photographed, all the brands involved are receiving installed shots of the products being donated.
The hope is also that post-pandemic, Weinstein will have an event for local designers – acting almost like a mini-showhouse. He would like to recognize those brands and individuals who are helping with this project: