Inspired By You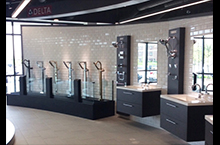 July 15, 2019
When my husband and I decided that our kitchen could use an update, we took on a bigger challenge than I anticipated. Thankfully, I have plenty of daily inspiration from our readers and the design community to reference! I know I might be taking a risk for publishing my own remodel, but I have a few designers to thank for their tips and advice along the way, and hopefully I didn't go too off track.
We live in the Seattle area, so homes are usually built sustainably and with local products and materials in mind. However, I feel like our builders might have cut corners here and there.
Before our redesign, our already small kitchen had an unsightly beige ceramic countertop, with grout that was constantly getting stained. I love ceramic, but this was not sealed or chosen well in my opinion. The wood cabinets are in a more traditional style with a very dark, chocolate finish, and the floors are a similar very dark color. The backsplash was also a neutral tone, erring on the dark side.
If you've been to the Pacific Northwest, you know where I'm going with this. All of these dark materials, combined with an average of nine months of gloomy weather, were not at all a good combination. I knew going all white wouldn't work, but something needed to lighten up, or I wouldn't last another rainy season out here.

Brightening the Space
We knew tearing out the cabinets was out of our budget, plus they were good quality. So I started with the surface materials, primarily the beige countertop and stone backsplash. After fighting Seattle traffic to the Precision Countertops showroom, I played like all of the designers and clients I've talked to before and perused all the choices – but I already knew what I loved.
The Pearl Jasmine Silestone I chose has a white base with subtle veining throughout for a more transitional look. I debated about going for their Nero Marquina look but feared it would be too modern – plus I knew lining up the veining would be tricky. I also decided to go ahead and replace the sink and faucet with something more updated to match.
The deep sink basin in stainless steel from Vigo and a new Delta faucet gave our kitchen a serious functional update.
DIY Touch
My wonderful parents then flew in for the week and helped us replace the former stone backsplash with simple white subway tile and install undercabinet lights. My father also managed to tear out the gnarly carpet in the pantry (who puts carpet in the pantry?!), and he installed gray luxury vinyl wood planks.
The last part was my doing. I wanted to install shiplap around our peninsula, but we ran across a fun wood planking that I hoped would give our kitchen a bit more personality. After my parents went back home to Georgia, I donned the safety glasses myself and went to work on the peninsula.
With a last update on the hardware, our kitchen is pretty much as updated as it's going to be – as of right now. What do you all think?