Introducing Sweeten's Design Trade Renovation Program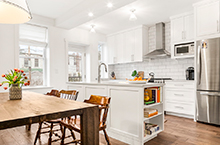 August 8, 2018
Sweeten, a service that matches renovators and the design trade with vetted general contractors, has recently launched a VIP program for designers. Sweeten is absolutely free to the renovator; its network of contractors pays a small fee when they are hired through Sweeten. The company has nearly $900 million in construction projects in the pipeline and has been called the "Renovation Game-Changer" by Domino and one of America's Hottest Companies" by Inc. magazine. If you have a client looking to renovate their home or business and are in need of a general contractor, you can use Sweeten to find the best general contractor for the project, and you'll be rewarded with a $500 Visa gift card if they use the service. KBB spoke with Sweeten's Randi MacColl, chief marketing officer, and Tyler Miller, marketing manager, to find out more.
What are the benefits of joining Sweeten?
When a homeowner or designer posts a project on our site, they are matched with three to five vetted contractors based on scope, timeline, budget, location and style. They can then check reviews and photos of previous work, decide whom they'd like to meet and get estimates. A project advisor is available to evaluate the bids, if they're interested, and then monitors the progress at key stages. When the project is finished, we photograph and tell the story of the transformation on our blog, crediting and linking to the designer, and post it on our Instagram to our 500k followers. We provide the photography to the designer free of charge and often get placements on design media, including Domino, Architectural Digest, The Nest and more.
Design by Andrea Brodfuehrer of New York City-based Von B Interiors
How does the referral program work?
Members of the design trade handling the general contractor bidding process on behalf of their clients receive a $500 Visa gift card for every client who signs a contract with a Sweeten general contractor. To get started with this new Design Trade VIP Program, simply register with Sweeten, select "Start a renovation project," and post your client's project. While filling out the project details, select "representing owner" so Sweeten can follow up and confirm your eligibility as a professional in the industry. Learn more about the program and how Sweeten helps the design trade at https://sweeten.com/architects-designers
How many people can a designer refer?
You can refer an unlimited number of people, and we encourage you to share with as many as you would like.
Design by Robin Rathmann- Noonan of New York City-based Robin R-N
Who is eligible to participate?
You must be a professional in the design space with a valid employer or business. Upon posting your project, you'll be prompted to provide a few details to confirm your eligibility.
To earn a reward, your client referral must be a new customer to Sweeten and not previously a customer under another email address or alias in our system.
Where does Sweeten plan to go next?
We hope to someday open in every major city in the U.S. Right now, we are available in the New York City and Philadelphia areas, but the plan is to be in eight cities by 2020. We also are working to connect the Sweeten community with a regular series of local mixers, as well as offering educational resources. Designers and architects tell us they send our cost and process guides to their clients as proof of what things cost!