It's Showtime!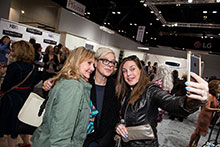 January 16, 2020
It's that time of year again, when all our favorite manufacturers and industry professionals gather in one place for a week of learning, networking and inspiration. There is always so much to look forward to at KBIS, and we feel there is even more to get excited about this year. Here are some of the happenings the KBB editors think will be the hottest events in the 2020 installment.
The Kitchen and Bath Design + Industry Awards Party
When: Monday, 6:30 p.m. – 10 p.m.
Where: The Encore Ballroom
Of course, an opening party is the best way to kick off the show! The NKBA Design Competition winners will be announced at this event, as well as the Hall of Fame Inductees, the Innovative Showroom Awards and more.
Design Bites
When: Tuesday, 12 p.m. -1:15 p.m.
Where: KBISNeXT Stage
Our managing editor served as a judge for this year's Design Bites, which feature a variety of new and innovative products for the kitchen and bath industry. It's a great chance to sit – always a rarity at KBIS – and enjoy seeing so many brands in a short period of time. 
A Conversation with Matthew Quinn
When: Tuesday,4 p.m. – 5 p.m.
Where: KBISNeXT Stage
Our executive editor will be joined on stage with KBB's Person of the Year, Atlanta-based designer Matthew Quinn, to discuss his newest projects, partners and programs.
Best of KBIS Awards
When: Wednesday, 4 p.m. – 5 p.m.
Where: KBISNeXT Stage
You don't want to miss this awards event, which recognizes the most innovative kitchen and bath products on the show floor. 
The BASH
When: Wednesday,8:30 p.m.
Where: XS Night Club at the Encore
Everyone will be looking forward to a chance to unwind – and network – after two long days of exploring the show floor, and The BASH is the perfect way to dance away the night. 
We will be scouring the show floor every day for the best and newest kitchen and bath products, so if you spot something you think we'd love, tag us on social media @KBB_magazine on Instagram or @kbbconnect on Twitter.