Kitchen Case Study: Old Florida, New Vision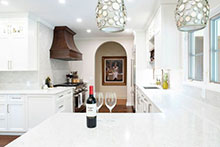 May 10, 2019
One hundred years ago, architect Addison Mizner brought Spanish style to Florida. The tall, open arches, windows and loggias typical to this architecture invited sea breezes inside and were the perfect antidote to our hot, steamy summers prior to air conditioning. Although inspired by the art of Spain and Italy, his structures bear his own stamp and are a defining feature of what we think of today as Palm Beach style.
I was recently delighted to be a part of a kitchen remodel in one such home in Boca Raton. The homeowners were looking for an updated and functional kitchen for their family. At the same time, they wanted to treasure and acknowledge the history of their 100-year-old home.
Setting the Scene
Design-wise, I saw my biggest challenge was taking the existing kitchen plus a butler's pantry area and making them into one unified kitchen full of function. At the same time, the space had to feel fresh yet look like it belonged in the house.
Challenges of an Older Home
Before we combined the two rooms, local company Denali Construction, with architect Adriana Finnvold, were able to remove the wall separating the existing kitchen and butler's pantry. Since we were removing a hallmark arch to open up the space, we added one on the entry to the dining room as well as one in the hallway to recall the home's character.
Design Thoughts
The existing wood floor was in poor shape, so it was replaced with a similar but darker wood with slightly wider, more updated planks done in a rich finish. Floating shelves in the same wood material tied it all together and added a modern touch.
Function & Flow
To really integrate the old butler's pantry into the kitchen, I decided to put the main sink and clean-up work area the former pantry area, below an existing window looking out on a courtyard garden. The old kitchen sink became a prep sink closer to the refrigerator, which allowed the two separate functions of food prep and clean up to happen simultaneously. Voilà – we now had a two-cook kitchen.
We also added some glass doors and took the cabinets up to the ceiling for maximum storage. A peninsula provides additional seating for the breakfast area. Another local company, Bernier Cabinetry by Devine Design Kitchens & More, brought this design to life with their careful planning and expert installation. I always say the best projects are great collaborations!