Kitchen Customization Inspiration Tips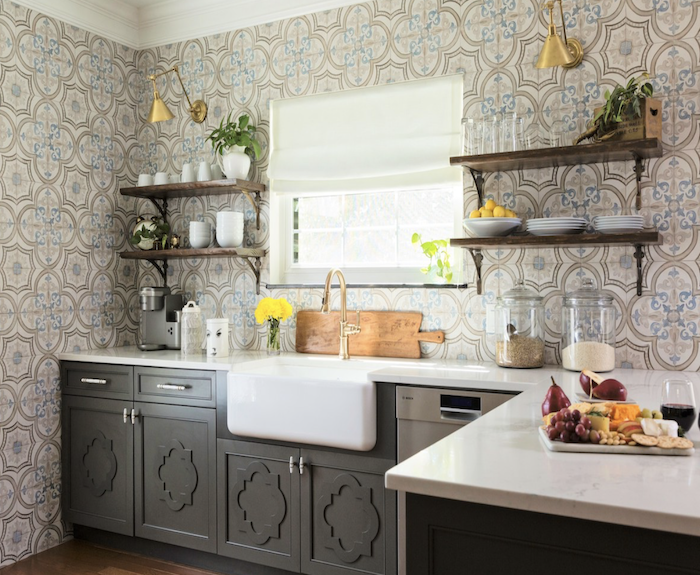 December 27, 2021
With so much hustle-and-bustle taking place in the heart of the home – especially at the holidays – it is especially important that the kitchen be a place of delight. To accomplish this, here are some tips to use as a starting point for customizing an inspiring kitchen:
1. Kitchen as the Epicenter
The most requested customization for clients by far? Enlarged kitchen islands. Times have changed, and so has the function of the kitchen island. It went from being a prep/grocery drop-off station to a deck of all cards. Now the kitchen island is where homework gets done, entire meals get eaten and guests are entertained. In this case, bigger is better, and we totally recommend adjusting this kitchen staple to fit your needs. Don't forget to get creative with the bar stools!
2. Sleek and Clean
Function is taking front and center in design overall, and we couldn't be more content — especially in the kitchen. Our motto is: "A spot for everything." Cabinetry designed for specific items is all the rage. Add in a toe-kick feature, and voila! Think built-in microwave drawers or hidden compartments made to look like cabinetry but really house refrigerators and ovens. Function is even making an impact in terms of style. Shaker cabinets, for instance, are taking a backseat to slab fronts for a much easier look to keep clean. Repeat: Function can be fun!
3. Bring on the Vivacity
Gone are the days of limited cabinetry color options. Kitchen design is taking an exciting direction toward colorfully painted cabinetry. Many cabinet makers let you step outside their color palette and bring in any color that inspires you; we often work with UltraCraft. Invigorated by a new shade of lipstick? Or sparked by the wall paint in an interior design ad? Just bring it in, and it can be matched. Appliances in pastel pinks, greens and blues are also making an appearance in kitchens to boost visual interest. Plus, it's so much more fun to bake with chic cookware!
Another way to say goodbye to the all-white kitchen is by welcoming patterned countertops and backsplashes made of natural stone, porcelain and quartz. We designed the entire kitchen of a home with Spanish print porcelain lining the walls throughout. (Hint, hint: It's pictured above, as captured by Amy Lamb for Native House Photography.) Organic elements, like reclaimed wood and exposed brick, are additional material options that can help create a look that's all your own.
Pro tip: Don't be afraid to blend finishes. Our go-tos? Stainless-steel appliances and antique brushed-brass fixtures – like faucets and cabinet knobs. Light fixture options are endless, making them a perfect tool for tailoring your client's kitchen to their individuality. Our take? You can never be too glamorous!
Let's end by kicking it up a notch with our last piece of inspo: Think smart. Smart kitchens have become more affordable thanks to user-friendly applications and Bluetooth technology. Starting your coffee maker from bed? Yes, please!
By John McClain of John McClain Design