Kitchen Design for Aging in Place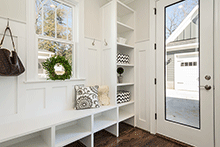 September 26, 2019
Baby boomers today are looking to renovate their spaces to accommodate their growing needs – now and into the coming years. It is difficult to anticipate future issues, but challenges with sight and mobility are common problems that can be addressed through thoughtful design.
KBB recently hosted a webinar – sponsored by Blum – on this topic. Moderated by executive editor Chelsie Butler, the speakers included Robin Weeter, CAPS, of Capstone Lifestyles and Michael Kaestner, CLIPP, of Kaestner Designs. Here are some of the highlights:
Encouraging Clients to Think About Aging in Place
Most clients who identify with this type of design do not have an urgent need, but they want to plan for progressive conditioning, like issues with depth perception or limited mobility. People are living longer, and there are needs they will encounter in the future. It is a difficult topic, so take a delicate and informed approach to planning for these challenges.
Resale Value: This is top of mind for everyone, regardless of age. It does not matter if your client is younger; if proper measurements are taken to make living in a home easier for everyone, it increases overall sale value.  

Safety: One in four seniors fall each year, resulting in about seven million injuries. If an elderly person falls in their home, it is likely to result in an expensive hospital stay. It would be better to spend money upfront to avoid costly injuries later.

Overall Comfort for Everyone. It's not just seniors who appreciate aging-in-place design. Most people go through experiences that limit their mobility, like pregnancy or a broken limb, and already having spaces that are still comfortable to manipulate can make a difficult time easier. 
Here are some of the most important elements to consider in an aging-in-place project:

Layout. Generally, you need enough room for wheelchair clearance (48-inches wide), as well as spaces to turn in a wheelchair (60 inches, though this might go up to 72 inches). Galley kitchens work great for mobility issues, and L-shaped floor plans work well too, since a wheelchair can pull up next to a peninsula. 

Lighting. Light fixtures need to be at the forefront of the process.A 60-year-old person needs three times the amount of illumination to see the same thing as a 20-year-old. Consider all kinds of lighting, from pendants to cans to natural lighting to fill the space. 

Storage/Cabinets. Drawer fronts that close and open electrically are extremely helpful for those with dexterity issues. Remember that roll-out drawers – while great in other situations – are not always the right choice for people in wheelchairs. Ensuring that cabinet contents can be easily organized by color or another contrasting factor will help people with sight issues. 

Surfaces. With countertops, people often take for granted the edge application on the countertop. There should be a discrepancy to where the surface starts and ends. If there isn't a distinctive line of reference, it could be easy to miss the surface. In addition, matte finishes are much easier to see than shiny surfaces. 

Appliances. Consider controls for appliances, and make sure to choose ones that are easy to see and grasp. Induction cooktops are also a great option since there is not as much danger of burning one's hands. 

Smart Technology. Home automation can really help aging-in-place clients down the road and eliminate dangers from appliances left on or temperatures being too hot in a light fixture. It will also allow clients with mobility issues to control the features in their home from one console. 
What do you think are the most important aging-in-place elements in a home? Let us know on our Facebook page or Twitter at @kbbconnect.