Kitchen Work Zones Versus the Kitchen Work Triangle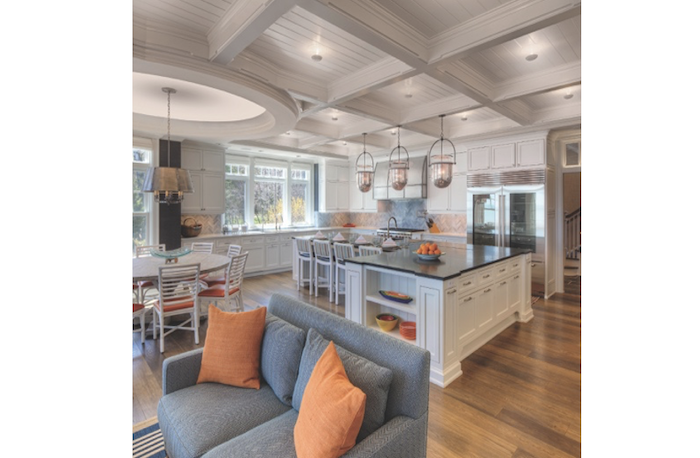 April 10, 2023
Kitchen design formed around preparing and cooking meals for the family. This room serves as the workhorse for any home's daily function. The kitchen triangle emerged as an efficient layout for three main areas to prepare, cook and clean, connecting the refrigerator, range and sink in a triangular pathway. But has the triangle run its course? Are kitchen work zones the answer to today's lifestyles?
Today's favorite kitchens are getting stretched to accommodate larger components, specialty appliances and cooking together. Kitchens have become the social hub – serving as the heart of the home – going beyond purely a place to cook to a spot for enriching family experiences including entertaining and dining.
What do clients need in their kitchen? How will each area be used? What kind of storage is required? The consideration of all these design details are a fundamental part of kitchen planning. The result is a breakaway from the traditional triangle into mini-triangles, or kitchen work zones, for preparing, cooking, cleaning, serving and socializing.
Separating the space into intuitive kitchen work zones that connect harmoniously creates a functional space for today's lifestyle. The layout is the backbone to a timeless kitchen that beautifully expresses your client's personality.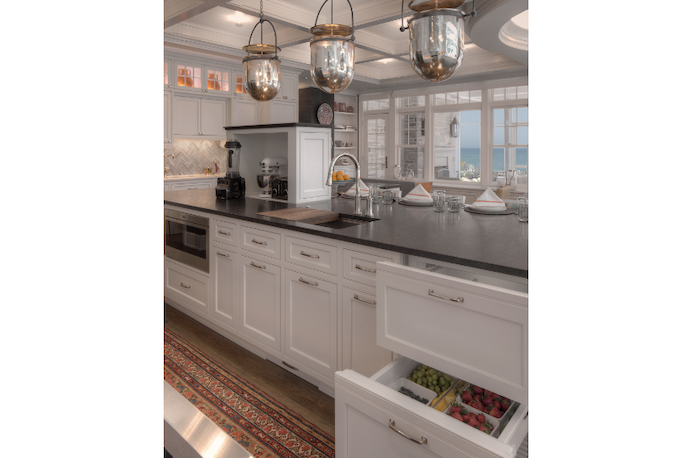 Kitchen Work Zones: Preparation
For a well-oiled preparation zone, include plenty of countertop space, a sink, proximity to a pantry, plus drawers and storage for access to knives, bowls and small appliances.
Plan for standing and passage space to prevent an open refrigerator door from blocking the flow. A prep sink used for rinsing ingredients keeps you in this zone. Clever options abound for organization to keep needed tools within reach. Refrigeration drawers are handy for fruits and vegetables for refreshing smoothies. However, avoid use for beverages since all that would be visible are the tops of cans and bottles.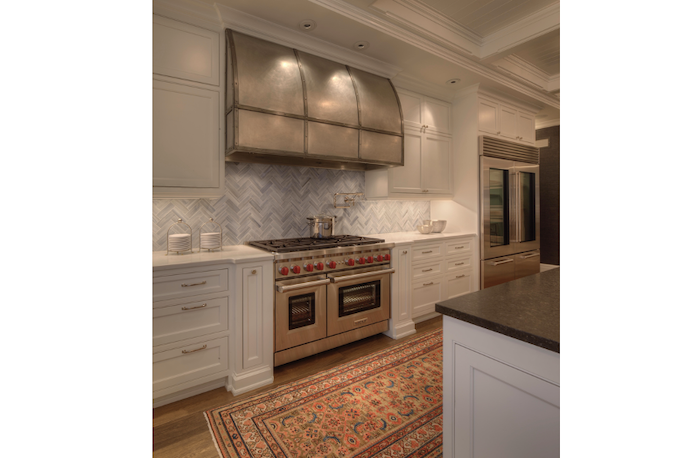 The Cooking Zone
When it is time to actively cook, the range or cooktop takes center stage. A custom range hood in a variety of finishes for any aesthetic will shine as a focal point of the kitchen.
Easy access to cookware, utensils, cooking spices and oils and an oven (or two) situated near the food preparation zone makes an effortless transition. Deep drawers are in favor to store pots and pans. Vertical cabinets are clever solutions to access seasonings and sheet pans.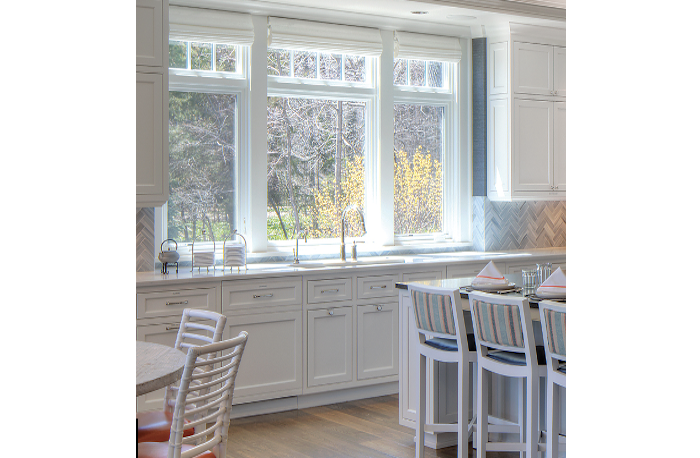 Kitchen Work Zones: Cleaning
A spacious sink is a clean-up necessity, and today there are many beautiful options from undermount, apron or farm sinks, to colors and hammered metals. A great faucet has many choices too, including a spectrum of finishes, single or dual controls, pull-out spray and coordinating accessories (think air switch, soap pump and water dispenser) to add up to a lovely collection for a complete kitchen sink experience.
Storage for dishware, glasses and silverware is nearby to easily put items away, avoiding a walk across the kitchen. The dishwasher is a must, and a great option is if there is space for a second appliance. Paneling the front of the dishwasher will conceal it in the bank of cabinets for a seamless look. Cabinet hardware, never a detail overlooked, adds the finishing touch to the design for a cohesive story.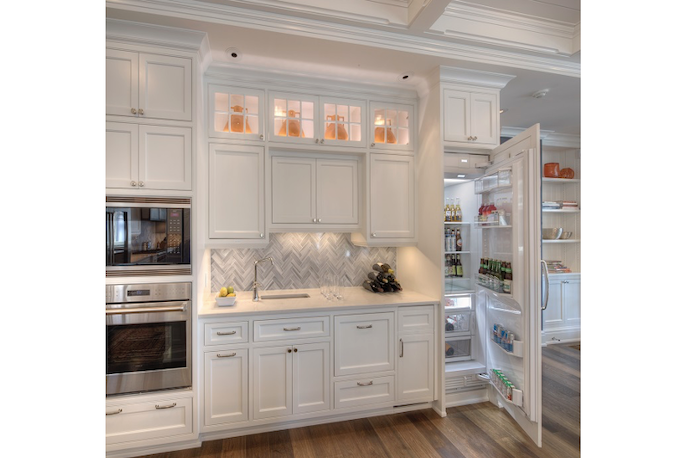 The Entertaining and Serving Zone
Rather than installing a beverage refrigerator at the island, locate the entertaining and serving zone free of the primary work area. Include a beverage center or wine cooler, ice maker, bar or trough sink, storage solutions for a variety of glass- and stemware and appliances for blending. In addition to preparing drinks and cocktails, this zone is a great place for a set of wall ovens. These function as a destination for longer cooking items or secondary use from the main menu.
Alternatively, this service center fits nicely within a sophisticated butler's pantry that would provide additional counter space and drawers for china and linens. This multi-function zone also provides an uncongested location to stage, plate and clear, supporting entertaining and serving needs effortlessly.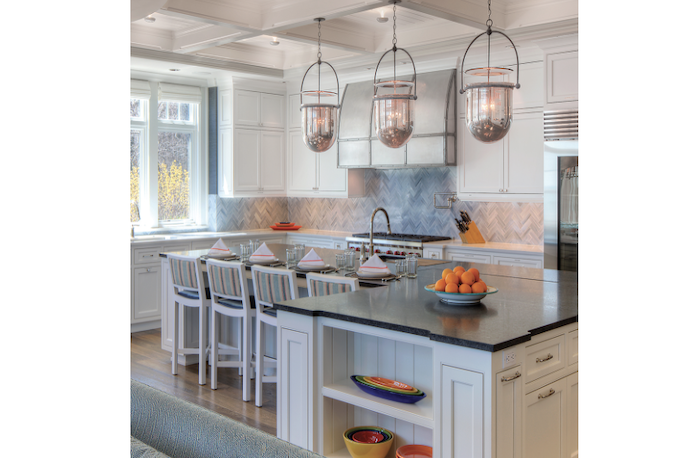 The Dining and Working Zone
As kitchens have grown as entertainment hubs, maintaining uninterrupted workspace remains a priority. Enter the island as a functional separator to keep the dining and working zone from the main areas but allows all the zones to be interactive.
Providing more tabletop area, the counter seating option offers flexibility for casual dining or working from home. Pop-up power outlets, connectivity ports, and cleverly hidden TV screens make the kitchen island a productivity hub as well.
An emerging trend of dual islands supports the social nature of the kitchen. A secondary island, either joined or standalone, is a way to separate preparation and cooking from dining and working, with bonus room for storage, cabinets, drawers and appliances.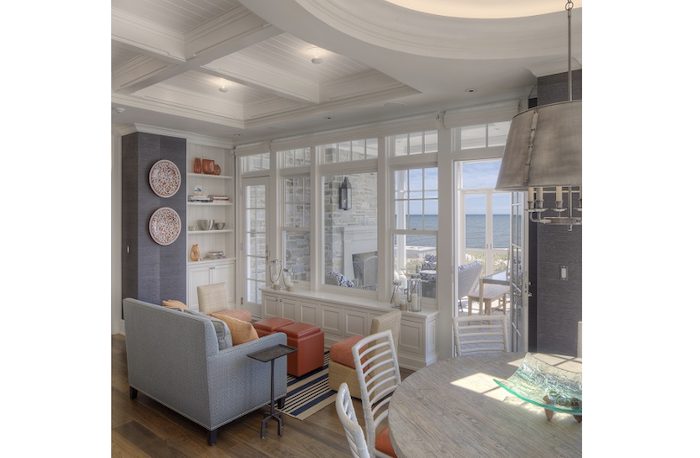 Kitchen Work Zones: Social
Opening the kitchen to the lounge and casual dining supports togetherness and connects family as we move through our daily routines.
—By Richard Sherer, founder/CEO and Laurie Rades, marketing associate, Deep River Partners
Photos: Mark Heffron