Laundry Rooms Designed for Today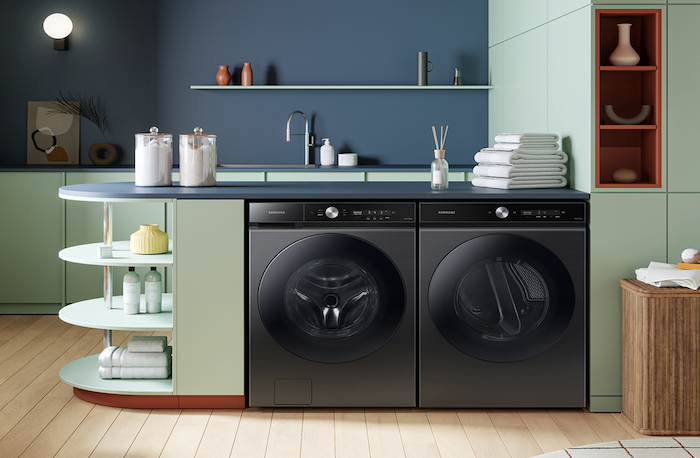 November 14, 2022
School is back in season and so updating laundry rooms with the greenest, state-of-the-art appliances has never been timelier! With that in mind, Jessica Petrino, educator and appliance expert at AJ Madison, a family-owned business with luxury showrooms in Washington, D.C., Brooklyn and Miami, has generated her list of tips and tricks for designing the ultimate laundry room: from sustainability, smart tech, load capacity and space-saving criteria, to speed of cycles and budget-friendly appliances. With amenities such as folding shelves to built-in sinks, automatic dispensing systems, antimicrobial parts and Wi-Fi connectivity, today's washers are powerful tools that enhance daily life.
Your Space, Your Way. When homeowners are selecting washers and dryers for their laundry rooms, they want models that fit seamlessly and bring aesthetic appeal to these thoughtfully designed spaces. Fortunately, washer/dryer sets come in various shapes, sizes, designs, configurations and colors. Whether a family chooses to go with a front-loader, a high-efficiency top-loader, stackable or side-by-side, they have a myriad of options to choose from that will meet their wants, needs, budgets and elevate their lifestyles.
Location Is Key! To keep the peace, one should look for models with vibration and noise-reduction features. There are models that offer special sensors to keep heavy loads balanced, even at high spin speeds. This technology keeps noise levels low. Dedicated space for the laundry area is another crucial factor. Stacking the dryer on top of the washer is a true space saver. Side-by-side provides valuable folding space by placing a counter over front-loading washers and dryers, and finally raised pedestal side-by-side front-loading washers and dryers provide easy access to both the drum and controls.
Smart Appliances. Tech is bringing bright ideas and colorful concepts to the laundry room. Laundry is the most innovative appliance category of all, as premium brands continue to push the boundaries of forward-thinking design and technological innovation. With a focus on fabric care, energy efficiency, ease of use and enduring reliability, these makers are leveraging smart technology and artificial intelligence to design features that optimize the performance of their products and enhance the day-to-day lives of the people who rely on them. On a basic level, people want to insert dirty clothing and linens into their washers and remove them clean and ready for another week's use from their dryers. And, although every washer and dryer are designed to meet those basic needs, some brands are creating high-tech tools for home laundry rooms that synchronize seamlessly with smart home technology. With a smart laundry set, one can initiate or stop a cycle, download new cycles, monitor cycle progress and diagnose potential service issues from a phone or smart speaker. Washers and dryers with smart technology also deliver new safety, energy saving and fabric care features that were not possible.
Sustainability! There are five features that bring sustainability and health to laundry rooms. The first is EnergyStar-labeled washers, which are are 30% more energy efficient than the federal standard and use 50% less water. The second is AAFA- (Asthma and Allergy Foundation of America) certified washers and dryers, which kill up to 99.9% of microorganisms including bacteria, allergens and viruses. Look for washers with an internal water heater, a sanitize cycle and/or a temperature boost cycle. The third is steam cycles, which provide a deeper level of clean by loosening soil and odors while helping remove tough stains like protein and grass without pretreating. In the dryer, steam refreshes clothing, lessens static build-up and reduces wrinkles. The fourth: Energy-efficient dryers that incorporate advanced moisture sensors to help reduce energy use by automatically shutting off when laundry is dry. The fifth feature is heat pump dryer technology, which is the most eco-friendly available because it uses half the energy of traditional vented dryers, saving both utility costs and the environment.
Accessorizing. Garment steamers are groundbreaking appliances that are the perfect addition to any walk-in closet, home office or bonus room, and they make a great alternative to an ironing board. Sanitize and remove bacteria from blankets, pillows and shoes, and run on a standard plug so you can limit your trips to the drycleaners.
—By Jessica Petrino, educator & appliance expert at AJ Madison