Lighting Trends Today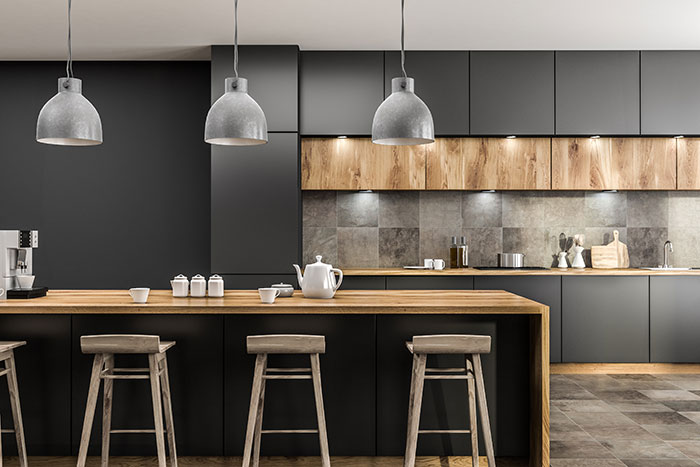 October 15, 2020
Lighting is the unsung hero of design. Without proper illumination, a high-functioning kitchen layout can be dangerous and unproductive, and a spa-like bathroom can feel dim and sad. But with correct, beautiful lighting, every corner of a well-designed space will shine. KBTribeChat this week discussed picking out the right lighting for any space, solutions for home offices and more.
The Challenges of Specifying Lighting
Lighting is an essential component in interior design, for any designer. There can be daunting aspects such as technical issues, but that's where design technology and contractors come in.
Specifying lighting can feel intimidating or seem like a job for someone else, but it's important to weave it into your design.
Use multiple sources to create layers of light and add visual interest. Plan lighting design while designing a room, not near the project's end.
Lighting is a key element to be planned from the start. Early on, it was in partnership with lighting pros, but lately integrators are often involved.
Selecting the Right Lighting
Natural light is one of the most important elements to consider when designing a room.
Wellness is a huge consideration when it comes to lighting, as well as practical utility.
Check off the health and utility aspect first and foremost, and then move on to equally important moods and aesthetics.
It all depends on the design and preference of the end user.
Soft, warm lighting is a perfect biophilic solution for decompressing after a long day.
Home Office Lighting Solutions
Many homeowners are either implementing or considering a more permanent home office setup, either by converting spare rooms, closet space or integrating a workspace into more open areas of the house.
Quality home office lighting goes far beyond a lamp on your desk. Office lighting should illuminate the area you are working on, help to keep you awake and focused and be evenly distributed.
Adding lighting to a work-from-home setup instantly increases the value and ups the efficiency of the workstation user.
Wellness Lighting Needs
Incorporating simple add-ons like toe kick lighting allows users to easily find their way at night with a motion-activated sensor.
Adjustable lighting and smart technology are gamechangers when it comes to living in place and wellness. Automatic dimming and brightening, as well as remote app capabilities can also provide huge benefits for health.
As independent living grows in popularity, safety lighting such as motion sensors, stair tread and toe board styles all become crucial.
Undercabinet lighting in the bathroom lights your path without blinding your eyes. This and circadian-rhythm ambient light make for a healthy, luxurious bathroom experience.
Sensor lighting in cabinets is both functional and beautiful.
Join next week's KBTribeChat by searching for the #KBTribeChat on Twitter at 2 p.m. EST on Wednesday.