Opening a Flagship Showroom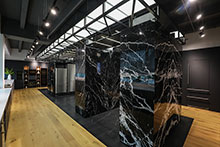 August 16, 2019
Liebherr recently opened its first custom-designed showroom alongside its North American headquarters in Miami, Fla. Designed in collaboration with firm Birke, the 1,200-sq.-ft. venue creatively thought out to best represent the German brand. KBB talked with Jonathan Barfell, senior marketing manager, Refrigerator and Freezers Division for Liebherr, to find out more about this new showroom.
Challenges
Barfell: Time is always a challenge. With so many moving parts, it was an orchestra of different people, installation schedules and materials. Many of the panels and materials were fabricated and shipped from Germany, and focusing on the lead-time and shipment time was crucial in completing everything by our scheduled grand opening. 
Location, Location
Barfell: Having the showroom and headquarters in the same building allows us to easily hold trainings and workshops with interior designers, sales associates and Liebherr employees. Additionally, it can be used to entertain corporate guests who fly in from around the world.
Formatting the Layout
Barfell: The space holds Liebherr's full range of products, including column, freestanding, integrated and undercounter refrigerators and wine towers. The finishes are a combination of various panels of wood, stone and textured materials. Many of the refrigerators and undercounter units are paneled and hidden from plain view, which highlights the extent of the customization we can accommodate. We invite guests to explore and find the hidden products. 
Standout Features
Barfell: There are four black pillars featured in the center of the showroom, each with a different refrigeration option inside. These can be individually moved up and down to adapt the layout as needed. On the ceiling, two frosted lights run the parallel of the showroom, mimicking the new InfinityLights in the newest Monolith column refrigerators. 
Black, marbled stone immediately draws your attention to the larger products in the room. On one wall, Liebherr's black glass suite showcases wine and is integrated into shelving. Another integrated suite is paneled with slate-textured materials mimicking lava and creates a stunning look with a wine tower between a monolith freezer and refrigerator.
In the corner is a living green wall and the Liebherr logo. This is our nod to Liebherr's green philosophy and focus on the environment.
Big-Picture References
Barfell: Finally, on the ceiling you will find two black metal, geometric structures that run across the length of the showroom. While Liebherr has been doing refrigeration for 60 years, this is only one division out of 12 for the corporation. One of the largest divisions is the mobile and construction cranes that are used all over the world. These structures imitate the structure and design of the cranes themselves, highlighting the versatility and corporate portfolio of this family-run, German-based company.