Openness Versus Privacy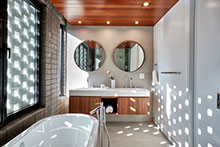 November 2, 2018

There are many benefits to having more windows and natural lighting, but when it comes to the bathroom, a sense of seclusion is also essential. Stephen Conte of Brooklyn, N.Y.-based STUDIOSC faced this issue in a master bathroom redesign at the heart of the Williamsburg neighborhood. Since the bathroom is situated on a busy street corner and overlooks a public park, privacy needed to be taken into consideration along with the views and the potential for natural light.
KBB spoke with Conte to find out how he tackled the challenges in this space.
Challenge 1: Ensuring Seclusion
"We accommodated the need for privacy by creating an exterior staggered brick façade over glass in just the bathroom area instead of clear windows," said Conte. "The interiors of the brick openings are lined with matte white tile to allow sunlight to reflect and bounce into the space, creating a very playful display of light."
The result appears as an architectural detail from the exterior, but the inside of the bathroom is now illuminated with dappled natural light. In addition, the homeowners can still see the park while in the freestanding tub through the small openings between the exterior bricks.

Challenge 2: Instilling Warmth
The home itself is primarily a contemporary design, but the clients preferred the bath to be more inviting and comfortable. To introduce this feel, the design team chose natural materials like mahogany planks on the ceiling and walnut paneling on the vanity, which were both stained to appear similar in tone. The double vanity countertop is extra thick to create a furniture-like appeal and is situated under two circular mirrors.
"We chose this custom-made double vanity because of the warmth we felt it added to the space," said Conte. "It exists cohesively within the bathroom to create an elegant, timeless experience that balances space, comfort and beauty."
Challenge 3: Creating a Centerpiece
Conte wanted to make the freestanding tub the focal point within the master bathroom while still providing the homeowners with access to the full-width, two-person rain shower. To do this, he placed the tub in the room's center but against the window, allowing for walking space.
"The tub adds a prominent curved element into the bathroom with its strong linear design," said Conte. "This high-end space now exudes a combination of luxury and comfort."
Photography by Garrett Rowland