Outdoor Baths, Tech Integrators & Wellness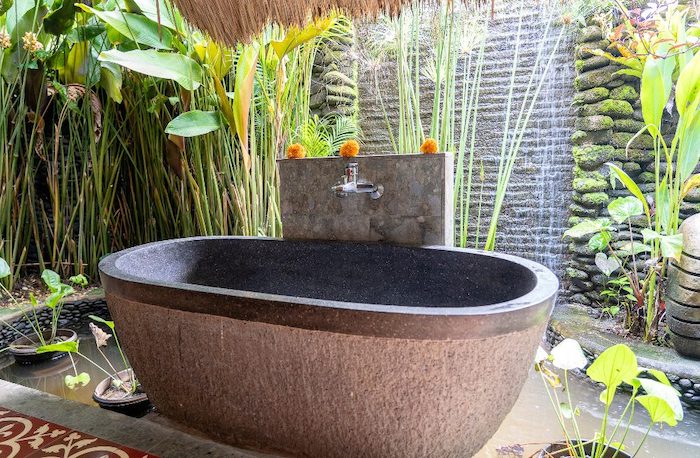 July 10, 2023
The bath is a sanctuary in the home, and like all sanctuaries, people place a high value on it in today's world. The bathroom is one of the areas with the highest spend for home renovations, and for a while, integrators have been trying to break into this lucrative space. However, to those prospects I pose this: have you ever considered bringing the bath outdoors instead?
Outdoor Baths Were (and Still Should Be) High Value Adds
Outdoor installations have become quite the popular category among integrators with outdoor amenities making up a small but not insignificant part of the projects. A lot of it has to do with this idea of biophilia: a desire for people to reconnect with nature that manifests as either natural elements being brought indoors or indoor elements being brought outside.
This commonly gets interpreted as outdoor living rooms, lounges, bars and other outdoor entertainment areas. However, wellness-focused relaxation spaces have been and are now something that is being sought after intently by many clients, especially those in the luxury category.
In 2018, just as biophilia and outdoor living were really starting to take off (well before the pandemic launched both of those concepts into the stratosphere of popularity), realtor.com conducted a study looking at some of the most popular and valuable outdoor fixtures at the time.
While the study has not received a 2023 redux (YET), back in 2018, outdoor baths or showers were found to have added 97% of its cost to a home's value, which, in terms of ROI for home improvements, is nothing to scoff at. This generally translated to a 10% increase in the home's value overall.
That desire for having a luxury, spa-like retreat surrounding by nature in the form of outdoor baths hasn't gone away. You may be well aware how the pandemic has catalyzed many sub-categories within the wellness movement, with the two biggest ones being biophilia and dedicated wellness spaces.
The outdoor bath phenomena is a melding of these two trends. Compared to a hot tub or any similar "soaking" equivalent, outdoor soaking tubs or showers are often smaller, more private and therefore offer a more intimate connection with the surrounding environment. These take advantage of the outdoor environment in creating a meditative state of mind.
Outdoor baths also don't require a tremendous amount of space. So long as you have ample privacy mixed with quiet natural surroundings, like a lush backyard garden, you can have an outdoor soaking tub or shower.
Serene Lighting, Meditative Audio, Just Add Water
Here is where integrators step into the picture. Audio is a king in the outdoor integration space, and lighting has been steadily creeping up the ladder. The most popular form of lighting in these installations is evenly split, but pathway and landscape lighting just eeks out the others for a tie.
In an article in Livingetc, James Walkinshaw, Senior Designer at Xanthe White Design, discussed the intricacies of designing an outdoor bathing space, and he stressed 'look beyond the tub.' His exact words were: "Garden spike spotlights can help to illuminate your path to the bath but avoid too much artificial light around your tub. I stick to one or two candles for a truly natural experience."
LEDs are a beautiful thing, however. Combined with a proper control system, such as one that is likely to already be in place for landscape lighting, and it would be all too easy to create a high luminance entry that drops down to a dim, warm and moody atmosphere.
A custom lighting scene attuned to serenity (as well as a little bit of function) is perfect for this type of installation. Pair that with some serene, meditative music played over a couple of cleanly-placed outdoor speakers and you have a truly spa-like atmosphere.
The hardware and infrastructure required to establish these backyard bath getaways is already being established by the integrator. The custom scenes and control is by no means out of the question.
Are they niche? Absolutely. But as integrators might seek to expand their outdoor offerings and further differentiate themselves among clients, the blueprint for bespoke outdoor bath is already in place, all that needs to be done is find someone to set up the plumbing. However, these luxury outdoor retreats won't be without their challenges, should integrators choose to look into this more.
Context is Everything When Designing an Outdoor Bath
It's worth noting that adding a bathing area into the mix comes with heavy considerations. As mentioned before: the environment. No nature and no privacy should be considered a no-go. It should go without saying that being able to see your neighbor from across the way might wreck the serenity and perception of being fully immersed in nature.
Likewise, a profound lack of natural views or lush greenery might make it difficult to sell the concept of an outdoor bath as at the end of the day. Biophilia is the strongest attractor of this outdoor element. It's the entire reason why one would want to move it from the indoors in the first place.
The only other considerations one might have when installing an outdoor bath or shower is drainage and covering. If the yard can accommodate all the water that will be drained, fantastic! If not, the location will need to be drained elsewhere, which can be as simple as running an aboveground trough to a different location, or as complicated as needing to be connected to the home's wastewater line.
Additionally, coverage is a concern when an outdoor bath is not in use. However, integrators can get very creative when it comes to providing efficient covers in this regard as well.
It's a niche design element to be sure, but when many integrators are already dealing with luxury clients who are willing to spend a little extra on a wellness addition, in addition to working on outdoor spaces, being able to create the perfect outdoor bath area seems like a perfect addition to any vacation or dream home.
—By Nick Boever, Web Editor of CE Pro