Personalizing a Galley Kitchen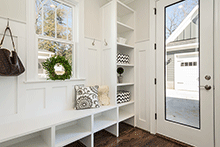 October 3, 2019
Lebanon, N.J.-based designer Joan Ravasy was recently presented with a common problem – an outdated kitchen – but a unique challenge: Create an open galley layout that would accommodate a wheelchair, as well as personal art. KBB spoke with her to find out more about this project and her creative solutions.
A Challenging Layout
Ravasy: The footprint is very narrow and long, and to expand the walls in any direction was impossible. This was due to the construction of the community and the neighbors next door sharing a common wall (the sink wall) on one end and a garage on the other. It dictated a galley kitchen design. Additionally, storage overall for the villa-style home was minimal at best. I created a wall at the end of the kitchen – slicing off 36 inches from the length – and created a walk-in pantry area, just before the exit to the garage.
Creating an Open Feel
Ravasy: Since the ceilings are 10 feet, we pushed up the overhead cabinets closer to the ceiling. This allows for a higher backsplash area, creating more of an open feel and deviating from the standard scale we see in kitchens that obey the rules of 'standard' counter heights, backsplashes, etc. I am one to break the rules and push the envelope!
Sink Views
Ravasy: Another challenge was how the sink would face the wall. I wanted instead to create the feeling of openness – a view with interest, so I mirrored the backsplash with one piece of mirror to reflect the kitchen and the rooms beyond. It is simple to keep clean and always looks fresh and interesting. In preparing for this, I had to be sure all details, lighting and finishes under the cabinets were perfect, as the mirror install would reflect all imperfections, glare and unfinished cabinets.
Wheelchair Accommodations
Ravasy: The island has a drop-down area to accommodate a family member in a wheelchair. Originally, the island was designed to be one level at 42 inches in height. We then dropped down the one end to create an eat-in kitchen to accommodate a wheelchair, while at the other end maintaining a task and food prep area.
Cabinetry and Countertops
Ravasy: After designing many kitchens, I still love white. We chose a white, matte finish on a full overlay door with pull-out drawers and shelving behind. The blue-tinted cabinets are actually glass doors with variable colored lighting that changes color automatically. I wanted the kitchen to have a monolithic appearance, so I kept the finishes to a minimum of color, texture and materials.
Personal Touch
Ravasy: The owner is an art collector and wished to have original art in the kitchen.  The walls and cabinets are white and the windows bare to create a functional background for the dramatic and colorful artwork that is installed in the kitchen.