Photography for Designers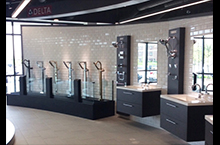 July 27, 2018
By Linda Holt
As a past professional photographer, I know that a big part of what makes a good image is what happens after the photo is taken. No matter how well exposed or composed the original is, I have rarely seen a photo that can't be improved in some way with editing.
Sometimes, it's simply a matter of lightening it up or boosting the contrast, but other times it's more complicated and involves balancing the color, removing unwanted objects or straightening architectural lines. I know many designers struggle with photo editing, because I see images posted on social media daily that clearly could use some help.
If you are a designer, you know how important posting a great photo is. In our highly visual world, posting a bad photo can actually hurt your chance of getting new clients or selling a home. I understand that not everyone can take a stellar photo or know how to take a mediocre photo and turn it into a great photo. Learning Lightroom, Photoshop or any editing app is an option, but not everyone has the time or interest to do that.
So that you can see the value and difference that editing can do, here are a few before-and-after images I have recently edited for other designers.
BEFORE EDITING:


Canadian designer and business coach Claire Jefford was on the Design Hounds LA Dwell on Design trip with me. Here is a photo Claire took of one of the homes during our drive around Los Angeles. Upon first sight it looks pretty good, right?
AFTER EDITING:

What my professional photography eye noticed were a few things that could make this exterior shot even better.
1. Straightened out the angle
2. Color corrected the image
3. Boosted the saturation ever so slightly on the two pink bushes in front of the home
4. Removed the antenna from the roof
5. Removed the two security signs from the left and right side of the garden
6. Lightened up the right side of the photo
7. Cropped out the partial tree trunk, which wasn't adding anything to the photo
All these changes were very slight but elevated the photo from good to great. Now let's look at another one, also taken by Claire during our Dwell on Design tour.
BEFORE PHOTO EDITING:


AFTER EDITING:

1. Straightened out perspective so it doesn't appear that the dresser is sliding down hill
2. Lightened up the dresser to show off the beauty of the wood
3. Boosted contrast a bit
4. Removed some distracting items that were reflected in the mirror
Designer Adrienne Gerein of Cranbook, British Columbia-based Interior Designs by Adrienne reached out to me do some work on photos from a recently photographed project. Adrienne lives in a very small town, and there are no architectural photographers in her area. She hired a local photographer to shoot a recently completed project. Sadly, the photos were not quite to the level Adrienne wanted for her website or to attract clients, so she asked me if I could improve them.
BEFORE EDITING:

One problem is that not specializing in interiors, the photographer used a very wide-angle lens, and there was way too much going on in many of the photos. Plus, when a wide-angle lens is used it causes all the lines to be way off. Look at the ceiling line. It runs down and to the left. Plus, seeing the back of the sofa adds nothing to the photo, since the entrance was the subject of the photo.
Adrienne gave me complete freedom to edit as I saw fit. I decided this image was really about the stunning entrance, gorgeous door and statement chandelier. The back of the sofa and the partial stair railings added nothing to the shot. The dog brings life to the image, so he needed to stay.
AFTER EDITING:


1. Cropped out the sofa and stair railings
2. Straightened lines and fixed perspective
3. Removed sun "hot spots" streaking across wall above the door.
Now this looks like an image worthy of her portfolio and one that will surely attract new clients.

In addition to her interior design business, Linda Holt of Boston-based Linda Holt Interiors offers photography services, including iPhone camera coaching and photo editing.