Powder Room Pizzaz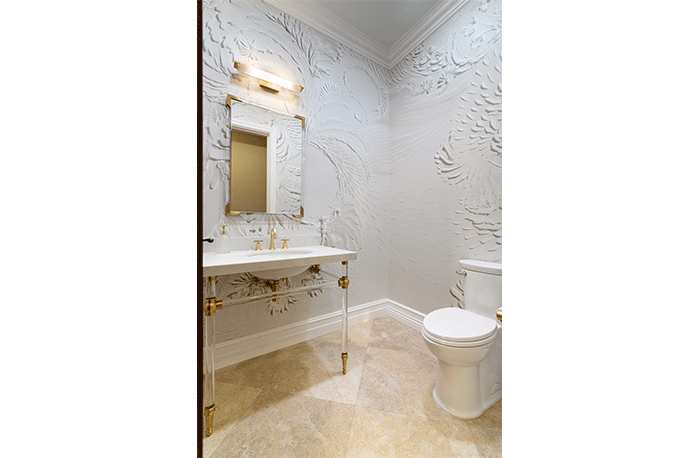 February 5, 2021
Clients tend to want to go bolder in the smaller bathrooms in their abodes. The same was true for this powder room in a Fort Lauderdale, Fla., home for a younger couple. Alena Capra, owner of Alena Capra Designs, pulled all the punches when creating this space, which includes a classic yet unique vanity with modern highlights.
"We looked at a lot of different vanity options and ultimately decided on the open look of a console lavatory with acrylic and gold legs from Palmers," said the designer. "We had the fabricator make the quartz countertop, and the faucets are from California Faucets."
Despite this being a small space, Capra did have to overcome some challenges along the way. The plumbing had to be moved around for the console lavatory, and the design team needed to choose the right location for the wall treatment.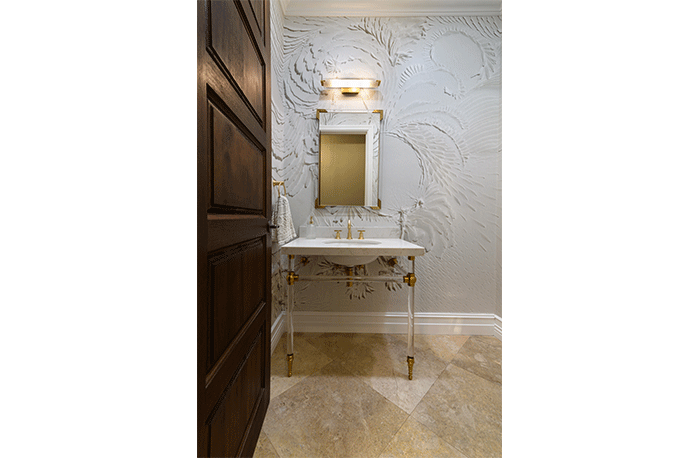 The homeowners wanted to keep the existing natural stone-polished floors, since they run through the rest of the home, which was how the they chose the gold and cream color palette for the powder room. "Powder rooms are small, but this wallpaper made the space a beautiful jewel box," said Capra. "The 3D-like appearance just really adds so much depth to the room."
Wallpaper: Area Environments
"We were just going to add this mural wallpaper to two walls, which we had ordered in the right quantity," she said, "but then we decided to add it to two additional walls. We had to work closely with the vendor to ensure the new batch color matched perfectly with that we had previously ordered and that the continuing pattern was also a match."
Capra says the use of a custom wallpaper is a great way to make a room stand out, but you need to make sure the measurements are perfect. She also said that working with a brushed-gold finish can be tricky because of the variety of shades available.
"California Faucets offers a lot of matching faucets and accessories," said the designer, who explained that the mirror and light fixture are harder to match when it comes to special fixtures in a bathroom. "We had success with the CB mirror and Kovacs fixture. I had used that Kovacs fixture before, so I knew it would be a good choice."