Rethinking the Beach House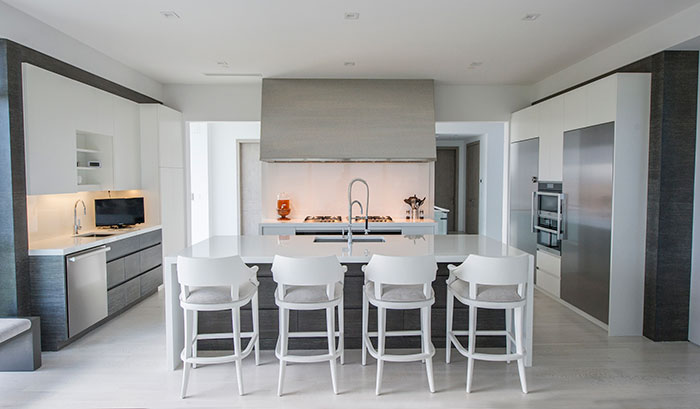 July 4, 2019
Photographer: Gary Nolan
It's summer, and that means beach vacations for a lot of families. KBB recently spoke with Gary Ciuffo of Ciuffo Cabinetry in Deer Park, N.Y., to find out how he created a unique and tasteful look for his client's beach project.
GOALS
Ciuffo: Our first goal was to design a modern kitchen that would complement the beach house in which it was built. Our second major goal was to design something different that wasn't your typical kitchen.
DESIGNING THE FLOOR PLAN
Ciuffo: This kitchen has fabulous views of the water. We designed the it with cooking and entertaining centered on the back wall, allowing for an uninterrupted 360-degree layout flow for family and friends. This design made it easy to navigate to all areas from every direction, with a beautiful view from every angle.
WORKING THE BUDGET
Ciuffo: We did more splurging then saving. I can say we did not waste a dime, and money was very well spent. This is a custom handmade kitchen, and it has a challenging cerused – or limed – finish on the cabinets to bring out the grain.
THE ISLAND
Ciuffo: The island was designed with a sink, trash, cutting board storage, dishwasher, flatware organizer and additional storage areas. We created a horizontal look for all the drawer fronts. There are matching fronts on the working cabinets and appliances.
FINISH SELECTIONS
Ciuffo: Cabinetry finishes are a combination with respect to the beach right outside the window. We used white paint to complement cerused, gray-stained reconstituted white oak.
FAVORITE PART
Ciuffo: The install was by far my favorite part of this project – to see it all pulled together and see the client pleased and smiling is always our favorite part!