Retro Appliances in Today's Kitchens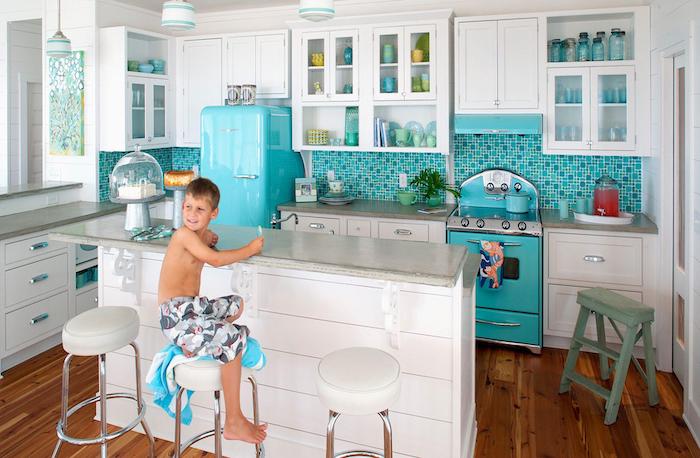 March 27, 2023
Today, decorating is often about mixing new and vintage pieces so a room reflects your client's personality and also looks like it's been crafted over time. So why settle for anything less in the kitchen?
Nothing lends character to a kitchen like a retro-style appliance. With their roadster curves and sporty flashes of chrome, these ranges, refrigerators, dishwashers and microwaves are the culinary equivalent of the vinyl LP – a tangible, soulful option in an increasingly impersonal age. And, like those analog albums of yore, they work just as well than their contemporary-looking counterparts.
Propelled by the same wave of nostalgia that lifted midcentury modern furniture to its current popularity, retro appliances combine solid craftsmanship and Space Age optimism for looks that – dare we say it? – actually put a smile on your face. Their rounded corners, gleaming trim and pastel colors evoke the propulsive charm of a '57 Chevy and are just as timeless.
Available from a variety of manufacturers, reproduction appliances may look quaint on the outside, but their technology is state of the art, with all the bells and whistles found on current models. Retro-look ranges are offered with sealed gas burners or smooth ceramic tops, and self-cleaning convection ovens have handy delayed-bake timers. Many of the refrigerators come with spill-containing glass shelves, filtered water dispensers, LED lighting, icemakers and in-door storage that can accommodate gallon jugs, so clients never have to sacrifice function for style.
While it's possible to purchase original period appliances online and from specialty retailers, 70-year-old models won't have these modern conveniences and will not meet contemporary safety standards – something to consider if there are children in the house. New models are also EnergyStar-rated, so they satisfy current guidelines for efficiency.
A new retro appliance may cost more than a period original, but that expense is offset by greater energy efficiency and the comfort in knowing that parts and service are readily available should they be needed, so the investment is sound. And should anything go wrong, a new appliance will come with a warranty that didn't expire with coonskin caps and the three-cent stamp.
But let's face it, it's the way these babies look that sets hearts racing. And in an appliance world dominated by white and stainless steel, an aqua, mint or buttercup chassis is like a breath of fresh air. Buy a suite of appliances in a single color (you can even find matching range hoods), then weave the hue into the backsplash, wall finishes or window treatments for a cohesive look. If your client prefers something a bit more understated, buy a single appliance and make it the focal point of the kitchen.
For clients who like the look of retro appliances, but aren't ready to take the color leap, consider pieces in a neutral shade like white, bisque or black. These blend beautifully with almost any décor and allow homeowners to enjoy the appliance's retro cool without committing to living with a color choice for the next 20 years.
Old-timey appliances are a natural fit for today's cottage, country and farmhouse interiors, which already depend on a certain amount of nostalgia for their appeal. Let their bygone charm jumpstart the fun in a cottage or vacation home, or inject a touch of hipster funk into a contemporary loft or urban apartment. And they needn't be confined to the kitchen: Add a retro refrigerator to the family room, cabana or man-cave/she-shack.
An ordinary range will rarely look fresh decades after purchase. But an appliance designed in the 1950s is like a window into an earlier time, marrying the familiarity of the past with the promise of the future. Whether you consider them camp or classic, they have a visual and tactile appeal that transcends time. Like a little black dress or a Sinatra tune, they never go out of style.
—By Tony Dowling, vice president of sales and marketing, Elmira Stove Works