Returning from Hurricane Harvey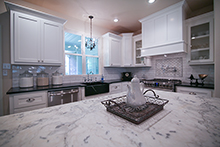 August 30, 2018
Last week marked a year since a Category 4 hurricane made landfall near Houston on the southeastern coast of Texas. Hurricane Harvey lingered for four days over the city, dumping more than 27 trillion gallons of water across the state and surrounding areas, causing more than $125 billion in damage and affecting more than 13 million people.
Robin and Mike Jones, who lived just outside of Beaumont, Texas, were part of these displaced people. Three feet of water flooded the first floor of the home they had built 13 years earlier, and since they lived outside of the 500-year flood plain, they did not have flood insurance. Instead, they budgeted and rebuilt from what remained – with a few new upgrades.

Starting Over
Because of the flooding, the kitchen had to be completely gutted down to the studs, including the cabinets, floors and sheetrock.
"We literally started with a blank canvas, or to be quite literal, an empty frame without even canvas," said Mike. "Our first priority was just to make our house livable as quickly as we could. But after 13 years, there were things that we wanted to update or just didn't like, and now was the time to fix those."
Updating the kitchen and introducing an open concept was the overarching vision.  The kitchen needed to become something that was timeless and would be enjoyed with friends and family for years to come.
Challenges
Since there were so many people in Southeast Texas who had flood damage, contractors were scarce, and those who were available were asking a premium for their work.
"Sad to say, there were quite a few wanna-be contractors and just plain scam artists," said Mike. "Not having gone through anything like this before, we were always sorting through the well-intentioned advice to figure out what was the right thing to do."
With an elegant farmhouse appeal in mind, the couple started their redesign by choosing Shaker cabinets and soapstone countertops. However, when they went to install a newly purchased farmhouse sink, the product would not fit with the new cabinetry.
""We are kind of in a remote area, so we do not have many luxury items in the stores near us," said Robin. "So the fact that our cabinet maker was eight hours away in San Angelo didn't help in this situation."
Instead, they asked their countertop manufacturer, Stone Store, an Artisan Group member, to craft the sink out of the same soapstone as their countertops.
"This countertop turned out so beautiful, even the contractors wanted to stop and look at it," said Robin. "The island and kitchen are all perfect, but the soapstone sink, which wasn't my first choice, might just be my favorite part of the kitchen."

Staying with a Theme
The combination of white cabinetry and black countertops set the precedent for a classic black-and-white theme in the kitchen. To enhance this appeal, the couple chose wavy subway tile with black grout for the backsplash. A mosaic of diamond-shaped tile in the same white tone breaks up the linear pattern over the range.
"The tile captures the light in interesting ways and has more depth and bling than plain subway tile lacks," said Mike. "It is the jewel in the setting of the kitchen."