Seven Sensational Kitchen Design Trends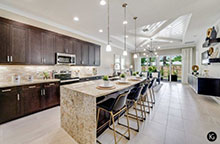 July 8, 2019
Popular styles, products and colors are constantly changing in the kitchen, and it can be hard to keep up with what's new and in – and what to pay most attention to. Kay Green, president of Kay Green Design in Winter Park, Fla., recently shared her team's favorite kitchen design trends for 2019 to help narrow down the focus.
1. Lighting: Gather and Cluster
While single pendants remain a constant favorite, when grouped together in an interesting arrangement, they deliver a dramatic statement. A cluster of mini pendants might replace a more traditional chandelier as the focal fixture over an island, and groups of pendants mounted at different heights can create a striking look while also increasing task lighting.
2. Cabinetry: Less is More
A quiet movement that's been rapidly gaining speed is the "no upper cabinet" kitchen trend. As the modern, minimalist movement takes shape, homeowners want their spaces to appear as clean as possible. One way we achieve this is to eliminate upper cabinets altogether and instead integrate floating shelves, sills or nothing at all. We're even seeing this trend incorporated into more traditional-style homes.
3. Finishes: Metallic Reigns
From lighting to plumbing hardware, the new metallics are fresh and unexpected. Many of our favorite manufacturers, including Kohler, Kallista and Grohe, have introduced a striking variety of colorways, including bright gold, rose gold, black gold and even polished rose bronze.
4. Islands: Make a Statement
Once an option or add-on, islands have become an essential focal point for almost every kitchen design. From unique material countertop choices to selecting an intense or vibrant color that contrasts the rest of the kitchen, there are many ways to make a personal statement. Oversized, substantial, five- to six-seat islands are also replacing breakfast nooks and conventional dining arrangements.
5. Double the Love: The Messy Kitchen & the Showpiece Kitchen
The trend of the "messy kitchen" is gaining steam. Presenting two kitchens: one for show and one for go! Typically, a messy kitchen is a secondary prep kitchen that houses appliances and workstations and is where the "messy" meal preparation is handled. As such, the main kitchen, or showplace kitchen, then remains clean and ready to entertain, gather or dine.
6. Colors: Mixed, Not Matched
Taking a cue from fashion color trends, there is a new surge in the implementation of mixed finishes, from fixtures to cabinets, islands to even appliances. Blending different finish colors and materials within a single kitchen space, if done correctly, becomes a recipe for a unique and distinctive appearance.
7. Sinks: Practicality Meets Personality
According to a recent Pinterest survey, searches for "black sinks" rose a whopping 252 percent over last year. Gone are the days when sinks were an afterthought and when the only viable option was stainless steel or white porcelain. We're seeing more sinks as works of art. They're not only functional but inventively crafted to either create a killer statement or enhance a very personal aesthetic.
This post – courtesy of Kay Green, MIRM, president and founder of Kay Green Design – originally appeared on the NAHB publication Best in American Living.