Shifts in Building and Remodeling Trends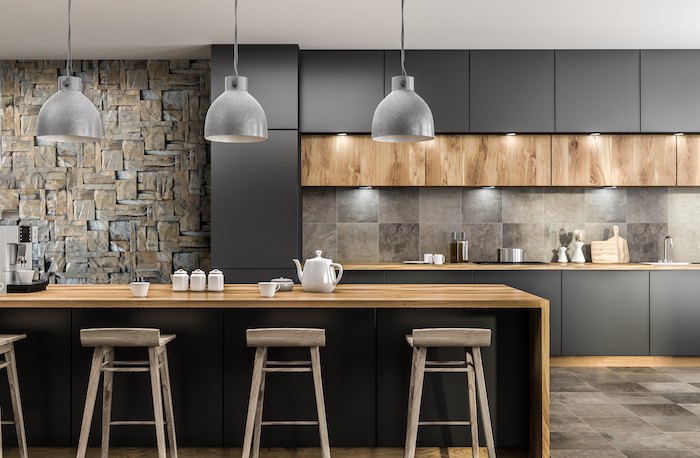 September 19, 2022
Welcome to the "new normal". In these unprecedented times, the only thing that seems to be certain is a degree of uncertainty. The overall mood is dark, dystopian, and does not put many in the mood for a family-friendly remodel full of white shiplap. With inflation rising, the global supply chain choked, and skilled labor still in short supply, it is easy to see only the negatives about the current climate in the design and construction industries. However, let me be your glass-half-full guide to all the good things making their way out of the chaos. Some of these shifts have been on the fringes of design for a while, while others are a forced pivot.
Shifts in Design
Biophilic design was something many designers were familiar with, but the pandemic helped the rest of us discover the benefits of using natural elements in design and propelled this movement into the mainstream. Oak cabinetry is back! This time, rift and quartersawn cuts are adding modern, linear styling to spaces. We are seeing wood wall paneling make a resurgence. This is not painted shiplap, which has now overstayed its welcome, but deeper panels with natural tones, like the example from Noblewood shown above. Panels add texture and architectural elements to the space. They also help capture sound, as anyone who tried to virtual homeschool in an open-plan home during lock-down can appreciate. Terrazzo and exotic natural stone looks are also back in demand. Because exotic stone can be hard to source and expensive to ship, it is being replicated in large format porcelain. This product is more durable and lighter weight for countertops, backsplashes, and other surfaces. Gloss-finish porcelain, which features high-definition digital printing, replicates natural stone more closely than quartz ever can.
Shifts in Technology
If you've tried to have a work Zoom meeting while your kids are online at virtual school or playing video games, then you are acutely aware of the limitations of Wi-Fi. Hardwiring new homes or rewiring remodels with Cat 6 cable allows for a reliable and consistent network connection that's able to handle all the home's internet needs without dead spots. This small change can facilitate the integration of all the home's devices, easily connecting them to a singular home control platform. This helps eliminate the need for multiple management apps such as one for a video doorbell, one for a smart thermostat, one for the home security system, and others from personal devices. In technology, automation is the name of the game and once people have it, they can't live without it. Automation can, and does, help control utility usage and costs for heating, cooling, water, electricity and natural gas, all of which are in high demand. This might sound like an extreme level of house self-control, but so did self-driving cars just a few years ago.
Shifts in Architecture
The triple threat of rising inflation, increasing interest rates and the unstable supply chain will undoubtedly be the nail in the coffin of the "millennial mansion". Budgets, materials and manpower that previously allowed for cascading cross gables, dormer windows opening into attic space above garages, and steeply pitched roofs will be reduced. The shortage in resale homes still demands new-builds, but with an increased focus on modern styling and updated materials. Modern design's lower-sloped roofs and cleaner overall lines require less labor and materials, and more functional windows allow for additional natural light. Prefabricated panels and building systems are being used to increase labor and material efficiency, especially in multi-unit and sub-development housing. Where two-story ceiling heights persist, builders are adding living space back into these areas as homeowner seek to maximize existing square footage.
Shifts in Mindset
We will never buy anything the same way again! I am sure you still remember going to the grocery store, staring down empty aisles, and fighting fellow shoppers over the last rolls of toilet paper – it could have been just last week. Homes are born from the dreams and passions of homeowners. Homes are built by the hard work of skilled tradespeople and commodity products; unfortunately, both are in short supply and prices keep rising. Product price-shopping in this market only gets customers so far. It's more important to carefully "shop" a builder and remodel team – remember, a coffee at Starbucks always costs more than a coffee at a truck stop for a reason. High demand coupled with scarcity of high-quality tradespeople means waiting for the best – but it will be worth it. Be patient. Be ready to pivot. We are all in this together.
We are not out of the woods yet. It is a wild and precarious journey, but when we get to the other side, it will be full of the old made new, and hopefully better, for us all.
—By Anneke Huisman, cabinetry design at Standale Home Studio and West Michigan NKBA Communications Chair