Six Things to Know About Slabs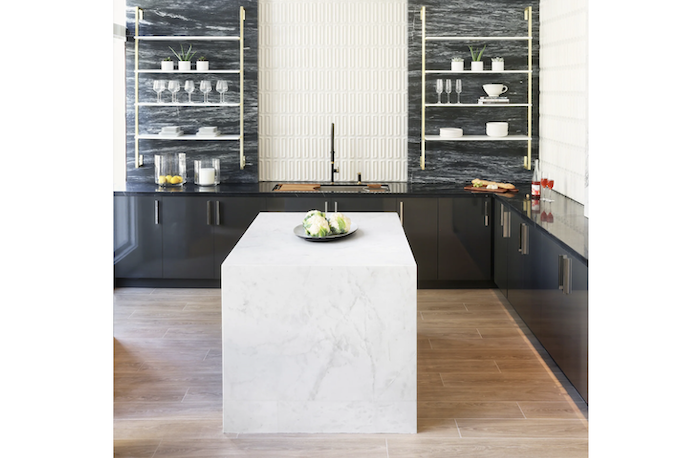 October 16, 2023
Two slab experts – Dallas Area Manager Matthew Collins and Dallas Assistant Manager Sarah Marek, who recently opened the first Ann Sacks Slab Gallery, in Dallas – share some surprising info that can help you decide which slabs to put where.
1. They're easy to seal. You might be aware of the fact that all stone slabs need to be sealed. What you might not know is that after your fabricator professionally seals them the first time, they can be resealed by your clients – at least once a year for marble and annually for quartzite, which is denser than marble – in about 10 minutes with a bottle of water-based sealer from the hardware store. "It's super easy to do and not at all intimidating," said Collins. There are even combination sprays that deposit sealer as they clean.
2. They're not just for horizontal surfaces. When you think "slab," you probably think "countertops." But Marek says that clients are beginning to use stone slabs for other surfaces: backsplashes, for tall fireplace walls, and even to wrap vent hoods. "Some people are moving toward clean lines and want as little grout as possible, so slabs are ideal," she said. "And then others want to bring in more drama, and they might go for a slab with patterns."
3. Color is in. "For stone in general, the warm colors are coming back," said Marek. "We're seeing more beiges, taupes, golds, and browns. It's not as much white and gray and Carrara marble all the time. Also, rich colors are coming back. Our Calacatta Viola has some great rich burgundy and wine tones and some greens."
4. They get better with age. Yes, marble slabs require sealing. And because marble is sensitive to acids, it's necessary to use a cutting board religiously and wipe away tomato sauce and lemon juice pronto. But over the years, marble develops a patina – which is part of its charm. "It's a living material, so it will change over time," said Collins. "But that's kind of the beauty of it."
5. The technology has come a (very) long way. Say you love the look of stone but want something that's impervious to stains, scratch-resistant, and super durable. Enter porcelain slabs. Made of clay that's been fired at high temperatures, they're imprinted (using a high-definition inkjet printer, believe it or not) with a hyper-realistic photo of a real stone. "I have seen porcelain slabs where I'm putting my eyeball up to, and it's hard to tell whether it's porcelain or not," said Collins.
6. Nothing is off-limits. There's a lot of info out there about certain materials – and a lot of prejudices. Collins recommends keeping an open mind. "You need to be informed, but you shouldn't be afraid. If you want your countertops to look perfect always, polished white marble might not be for you," he said. "But if you love the look of those strong veins and you're aware that wine rings can leave stains, you should choose what you love."
—By June Demelo
Photo credit: Ann Sacks