Six Tips for Designing a Home Office Workspace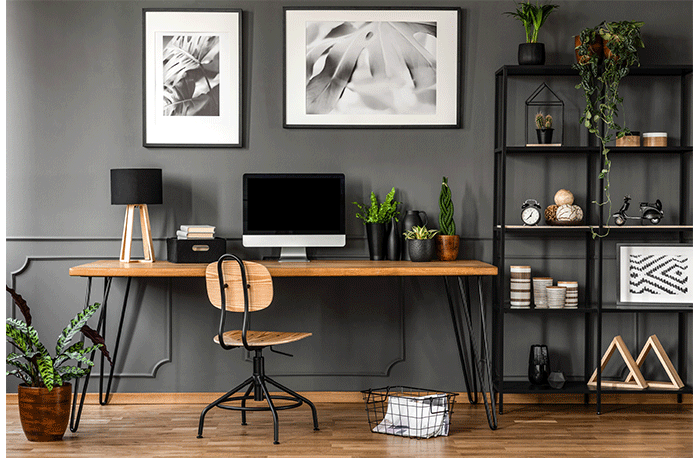 January 29, 2021
Once the economy is opened up will it be business as usual? Many companies are looking at how working from home may become the new normal. What if a temporary set up needs to become a more permanent workspace? Here are some pro tips on helping you set up your home office.
1. Home Office Location: Where do you want to work?
Planning schedules, volunteer meetings and household tasks can be run from a cozy corner. If you will be meeting with clients or need quiet, you might want to consider a more private location. For just organizing expenses, a smaller spot may be just right. It's very important to consider how you will be using the space to determine the location in the home.
2. Form Follows Function: Furniture
Don't sell yourself short. A desk sized for the task and a comfortable chair are the first items you will need. If you don't have a work surface, things tend to pile up. If you will be sitting for most of the time, invest in an ergonomic chair. Your back will thank you. Or maybe a stand-up desk is right for you. I suggest a comfy chair to kick back for those longer phone calls. Even if you are set up in a guest room, treat the space like an office and just add some style.
3. Storage: Cabinets & Files
Try to have an additional place to keep some of your things other than the desk. Even in a home office, there are still documents you will need to keep safe. Shelves are handy for easy access. Not so neat? Maybe add some closed cabinets as well. File cabinets don't have to be unattractive. Get creative with materials and colors.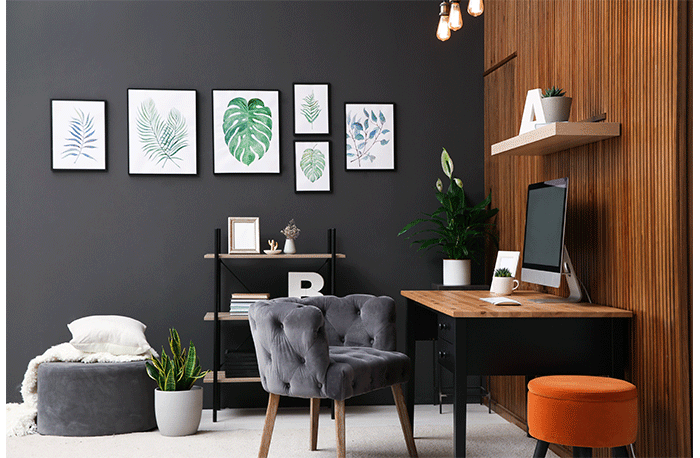 4. Technology: Staying Connected
A wireless hub with a fast connection will allow you to work on your laptop or tablet from the desk or that comfy chair. Will you need a printer? If there is a closet in the room, you can add outlets and make that your printer/supply area. You may have enough space to add a small undercounter refrigerator, coffee maker and some healthy snacks. Don't forget a charging station.
How about a virtual assistant like Alexa or Echo. Meeting online? Think about what your viewers are seeing. If you don't have a neat spot behind you, consider a virtual background. I use a kitchen I designed as mine. Make sure your camera is raised up enough to be eye level so you are not looking down at your audience.
5. Lighting: Task & Ambient
Even if you have great natural light, don't forget lighting. A good desk lamp (task lighting) will be appreciated especially at night. Overhead lighting (ambient lighting) should fill the space with light. Make sure you have adequate lighting to prevent eye strain and illuminate the tasks at hand. If you are having virtual meetings, make sure there is good lighting in front of you as well as on the sides. The people you are meeting with need to see your face.
6. Climate Control: Heating & Cooling
It is hard to work when you are too hot or too cold. Make sure you are comfortable so you will want to spend time in the space and be productive.
Final Thoughts
Keep your space organized no matter the size.
Decorate it so you will want to spend time there.
Use colors you like to be around.
Keep the office in the office area; try to not let office items wander.
Add some plants for natural decoration and stress reduction.
Create a chalkboard or wipe board with paint – keep those great ideas and goals where you can see them.
Sharon L Sherman, ASID, CID, CKD, is a designer and Reiki Master located in New Jersey. Her award-winning designs and editorial comments have been featured in several publications. Her blog, "Tips for the Trade" has appeared in digital form on Sivanaspirit.com, and she has also appeared on HGTV's "My Big Amazing Renovation" and episodes of "House Smarts with Lou Manfredini." Original block post can be seen HERE.
-Top photo credit: Photographee.eu/Adobe Stock
-Second photo credit: New Africa/Adobe Stock