Smart Business Ideas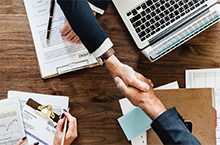 December 7, 2018

During the initial meeting and throughout the sales process with the client, I explain how I work – I go over the process and deal with questions they don't understand. Here are some of my tips for success in leading the project all the way through:
Working with Internet-Influenced Clients. I embrace the Internet. I often will bring it to their attention that I know they plan to do their own research. I explain that working with me, I will help them to understand the pros and cons of the Internet.
When Clients Don't Agree. Sometimes you can't get a customer to STOP and let you do your job. I will point out that they hired me to help them get out of their comfort zone and create their dream space, and I often remind them that they need a designer now because they couldn't do it themselves.
Communicating with Each Key Member of a Project. I always make sure that correspondence is in writing (obviously). I also have a project notebook. This binder is onsite, and if anyone has questions they can write them in the book, and I will leave notes for the crew or homeowner if they aren't there. If there are items to discuss, those are also included in that binder and reviewed during our weekly meeting.
Communicating Successfully. Assume nothing. With major decisions that are discussed, follow up with an email. Keep detailed notes, and always create a change order even if there is not a charge associated with it.
Determining the REAL Project Budget. From there very beginning, I discuss budget. If a client doesn't know their budget, I ask them their comfort level based on projects of similar size and scope. I also discuss their shopping styles and how they feel about the project. You can learn quite a bit if you look and listen.
Setting Fees. I have my design fee and hourly rate. My design fee can change depending on the scope of work, but I do have a minimum. My hourly rate and my team's hourly rate vary by experience.
Writing Up and Sticking to Contracts. The services can change depending on the project, but I do make sure that a contract is signed before work begins and that there are clear guidelines regarding the responsibilities of everyone contracted.
Marketing Yourself and Your Skills. I could be better for sure with social media and marketing. My business was built by word of mouth and referrals. I am working this year to market myself more, become more involved with local trade organization and increase my business through these tools.