Southern Style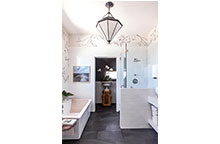 November 15, 2018
Photography by Heidi Geldhauser
Nashville-based designer Chad James of Chad James Group recently had a unique challenge set before him: creating a bathroom that was indicative of the South. Tasked by the annual Southern Style Now Showhouse – part of the Southern Style Now Festival that takes place every November – James put together a space that evokes both Southern charm and old-world elegance.
KBB magazine spoke more with him about his design and the inspirations behind it.

What was your goal?
James: The ultimate goal for the bathroom was to provide a sophisticated remembrance of childhood moments in which I climbed trees.
What were you inspired by?
James: Being situated on the top floor of this beautiful home, I wanted this room to have the feeling of being in the tops of trees. I felt it only appropriate to use the bold Philip Jeffries "Blossom" wallcovering, which is an immediate display of a Southern staple – the magnolia tree.

What were your challenges?
James: The major issue was the narrow rectilinear space. We were able to create two individual spaces, which allowed for the water closet to be its own entity.
Did you change the layout? If so, how?
James: I chose to include a one-seam vanity rather than the normal double sink. This gave an opportunity for a longer unit with more countertop space.

Tell us about your design for the shower and tub areas.
James: The shower was designed to be a bright white space against the dark flooring and countertops. This echoed the bright white soaking tub across the room. I also created a custom stone backsplash that was in remembrance of an old washstand I remember from my childhood.
What was your favorite part of this design?
James: My favorite part was mixing different eras and elements together to create what I feel to be truly a lasting and classic interior.