Tech Talk in the Connected Home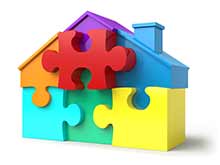 December 16, 2019
Last week, I attended our inaugural Design+Tech Connection in New York City. The event was hosted by the National Kitchen & Bath Association, KBB magazine and CEPro magazine and was organized to inspire collaboration among brands, design pros and tech integrators. The full-day program was packed with sessions that educated the audience on designing for light, smart design for well-being and best practices for successful smart home projects.
The lighting panel included David VanWert of VanWert Technology Design and Stephen Margulies of One Lux Studio. Their overarching message was the importance of keeping up on the latest lighting offerings and knowing if you need to engage a lighting professional for your project. There are a variety of dimming methods to use, and lighting equipment has gotten much smaller. Good lighting instills comfort and ambience and should not be too bright. The team also explained that two to three light layers should be sufficient; more than that can become confusing for your clients, and it is imperative that the system is easy for them to use.
Julie Jacobsen, the founding editor of CEPro, talked smart wellness with a focus on biophilia – design that brings the outdoors inside through views of nature, plenty of natural light and using materials like wood. Designers can use technology to simulate nature – also known as biomimicry. Virtual views, photos and videos can give the perception of open spaces, and adding audio is also known as habitat soundscaping.
I was a moderator – along with CEPro's Jason Knott – on the best practices session, and we were honored to have on our team two tech integrators – Ed Gilmore of Gilmore's Sound Advice and Kim Michels of Electronic Environments – as well as three design pros: Carl Shenton of Shenton Architects, Thomas McMahon of McMahon-Baek Architecture and Kathryn Eisberg of KE Design.
The key takeaways from our session included:
There is no cookie-cutter business relationship between architects/designers and integrators. Improvisation is often required.
Integrators prefer to have direct relationship/contract with the client.
Integrators will be on the project for a prolonged period of time.
It is vital to get integrators involved early in the project.
Let the integrator provide the small- and large-scale budget range directly to the client.
For designers and architects, a bare minimum budget range for technology is $15/square foot.
Work closely with the integrator to determine the overall scope and budget that will be meaningful to the client.
A big thank you goes to our sponsors, which included Control 4 and Sub-Zero, Wolf, Cove (title sponsors), Savant (silver sponsor), Kohler (bronze sponsor) and supporting sponsors Rev-A-Shelf, Access Networks, Barco Residential, Autokitchen Software, Leon, Miele, Crestron and Basalte.