Ten Steps to Better Stairways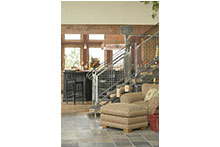 January 21, 2019

By Doug Walter, AKBD, AIA, CAPS
Stairs are a really big deal that get too little attention. We need them to get from floor to floor or down to the basement, but the industry for the most part tries to make them as compact as possible, so as not to "waste space." Why not make the stairs a design element in your homes and celebrate their special role in our lives? Life is too short for boring stairs!
Top Tips for Better Stairs
1. Gentler Rise. If you take away nothing else from this, remember to keep your risers less than 7 ½-in. high or else the steps will be too steep.
2. Longer Runs: This is the other critical measurement to watch: You want treads that are long enough to accommodate an average foot without turning it at an angle.
3. Second Railing: People who are right handed might hold the railing going up, but not going down and vice versa since it isn't their dominant hand. With two, you always have a railing on the side you prefer to use.
4. Code Rail Diameter: The average hand must be able to grasp it and curl their fingers around to hold on tight.
5. Better Lit Day or Night: Since descending a stairway is the most dangerous thing we do in the home, make sure the user can see what they're doing. Better-lit stairs are not only safer but are infinitely more attractive.
6. Non-slip Surfaces and Rounded Edges:  Although wood stairs are lovely, they can be slippery, and that is why I prefer a carpet runner or carpeted stairs.
7. Wider: Code minimum for residential stairs is 36 inches. I find a 42-in. width a much more pleasant one. People notice and welcome the extra width; it's a luxury.
8. Visual Cues and Contrasts: We need to see where we are stepping to avoid falling. Commercial stairs are required to have a contrasting color or texture to signal the edge of a stair, so why not include that in residential?
9. Proximity: All risers and all treads must be within 3/8-in. of each other, according to the International Building Code.
10. Adequate Headroom: Code requires 6-ft. 8-in. clearance at a minimum. And there's good reason, as many people are more than 6 feet tall, and if they are descending the stair in a hurry, they may smash their head on a low-hanging beam.
Doug Walter is an active member of the Rocky Mountain Chapter of NKBA and has been a remodeling architect for 40 years in Denver. He is also an NKBA Chapter presenter and a KBIS Voices of the Industry speaker as well a member of the KBB Editorial Advisory Board and a contributing editor for Pro Remodeler magazine.