The Advantage of Add-Ons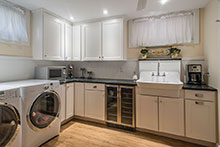 May 31, 2019
Today, the kitchen and master bath are not the only popular renovation requests. More clients are rethinking what we call "sister spaces," like laundry rooms, mudrooms, closets, outdoor living spaces and more. These high-functioning rooms add value to a house and can dramatically improve a home's appeal. As a continuation of our Better Business column in the May/June issue, KBB spoke with Doug Walter of Denver-based Doug Walter Architects to find out when and how to suggest these spaces.
KBB: How often are you asked to include some sort of add-on to a kitchen and/or bath project?
Walter: Almost always! But that comes with my job title; people hire an architect when they have big plans. Your role as the design professional is to listen to their requests first and foremost, but you also have a responsibility to listen to the house – to let it "tell you" what it needs or wants. You should always look at what the problems with the house are and what the opportunities might be. Don't be shy at all in suggesting added work items to the client.

KBB: How do you go about suggesting add-ons?
Walter: A homeowner doesn't know what the best remodeling solution is until they've seen all of them. They may come to you with a preconception, but if you'll take some time sketching or plotting options, you may surprise them with alternatives they'd never even considered and that are far more appealing than what they started with. A client may come to you with a request for a simple kitchen, and you suggest that a window could become a French door, offering direct access to a deck or turning a little-used closet into a much-needed powder room. In the beginning of the design, I always tell the homeowners there are no limits to their thinking and brainstorming. Limits come later when you face the budget realities!

KBB: Why are mudrooms so popular in your opinion?
Walter: People are crying out for help with this; they need an organized spot for all the coats, hats, gloves, boots, backpacks, briefcases, dog leashes and whatever modern life requires – right where they come into the home. Without a designated space, everything scatters across the family room, breakfast room and kitchen.
KBB: What about laundry rooms?
Walter: Laundry rooms are another frequent request: Instead of having to choose whether to put them in the basement, the first floor or the second floor, clients are asking "Why not in a couple of places?" We're doing one right now with a basement side-by-side laundry room plus a stacked, full-size unit off the second-floor hall – plus a laundry chute to the basement laundry.
KBB: What other add-on spaces have you seen?

Walter: One example of a literal "add-on" space is a master closet we just did in a 12-year-old home. Because of the stairway, the walk-in closet was only 5 feet wide, which is only sufficient for one row of hanging and shelving. Here, we proposed an 18-in. cantilevered bump out that doubled their storage, as we could hang on both sides.

KBB: What are your tips for incorporating add-on spaces with little square footage?
Walter: I often tell clients that if we can't add square footage, let's add cubic footage – meaning look at the volume of the space and use every bit. If they have a kitchen with 1 or 2 feet from the top of cabinets to the ceiling, let's specify full-height cabinetry. You see this a lot in basements or garages where most of the homeowners' stuff is strewn across the floor – with nothing on shelves – so a common remodel we do is to create one or more storage rooms that have floor-to-ceiling simple plywood and 2-by-4 shelving.

Perhaps the prime opportunity for repurposing are closets, which are ideal for the tiny powder room you desperately need or for a washer and dryer, a pantry or a beverage center. If you've done a good job and provided a great mudroom where the family enters, what do you need the front hall closet for, anyway?