The Designer's 10 Commandments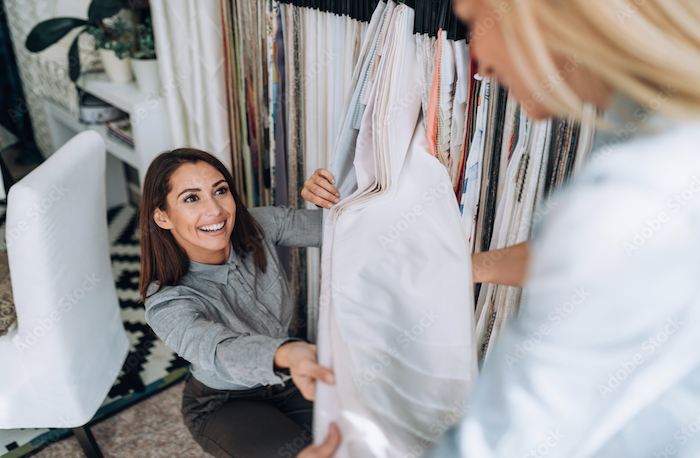 October 2, 2023
As a designer, you know that providing your clients with quality options and services that meet their specific needs is the most important part of your job. That being said, it is not easy to provide those quality solutions without having a deep and clear understanding of the needs of your customer, their likes and dislikes and their budget for the project at hand. So, what should you be looking to learn from your customers? How can you be the best designer in the market? If you follow these designer's 10 commandments, you can be leaps and bounds ahead of the average designer.
1. Understand Your Customer's Stage of Life
The first and most important step in the getting-to-know-your-customer phase is understanding their stage of life. Are they young and looking to remodel the bathroom in their first home to make it more modern? Do they need a solution for a growing family? Are they struggling with mobility issues and need a more accessible shower or bath solution? Are they elderly and looking for ways to help them stay home and maintain their independence as long as possible? Asking these questions and understanding why your customer is wanting improvements in their home will help you recommend the most personalized and appropriate design solutions going forward.
2. Learn Your Customer's Pain Points
Once you understand the purpose behind why your customer is requesting your services, you need to figure out what their pain points are. Pain points can be a lot of different things, such as:
• Lack of understanding or experience with home improvement projects
• Budget limitations
• Prior bad experiences with home design projects
• Friction between the homeowner and the installers
• Process pain points where the customer feels the process is taking too long to complete or doesn't want to follow the steps needed in the setup process
Any of the above-mentioned pain points, as well as a multitude of others, can arise at any time, and it's important to understand what those are so you can do your best to help eliminate them. If your customer has a champagne taste on a beer budget, you want to understand that so you can offer more affordable solutions that are equally stylish, modern or effective.
3. Think Long Term
People don't typically remodel a bathroom every five or 10 years, so you want to make sure whatever solution you offer is one that will age well with your customer. This means finding solutions that allow the customer to grow in their home that won't be outdated or impractical 10 years or even 20 years down the road.
4. Determine Which Tools Best Address the Problem
Once you understand your customer's stage of life and pain points, it's time to determine what options you can provide that will best meet those needs and deliver an excellent customer experience. For example, if your customer is wheelchair-bound and needs a new kitchen remodel, you might think about making stove tops, countertops and even cabinets lower so they can access them. Could grab bars along the counter allow that person more flexibility in the kitchen to move around? Thinking through the tools you have available to you and how they can be used to help enhance the customer's product or service is critical to making sure they are pleased with the result and will come back for more work in the future, while also recommending your services to friends and family.
5. Think Through Accessibility
Similar to the situation with the kitchen above, you want to make the improvements as accessible as possible. When designing a shower or a bath, think through accessibility features for your customer. Keep shelves within arm's reach. Find solutions to reduce clutter in the shower and position stabilization bars throughout to ensure customers can shower or bathe safely and comfortably. Some manufacturers even offer a cleverly disguised "grab shelf" that holds shampoos and other shower bottles but functions just like a supportive grab bar – a more attractive alternative for your customer looking for safety and beauty.
6. Provide Demonstration Kits
In the design process, it's important to help customers visualize what the remodel will look like before you start knocking out walls and tearing up floorboards. Bring samples of the materials so the customer can feel and touch them. Try to do a design mock-up and even mark off areas where you will make changes so they can see what that will look like. You want to make sure your customer is fully on board with the design process before you get your installers in there to start doing the work. The best way to do this is to allow your customer to feel, touch and visualize the final product as much as possible.
7. Be an Attentive Listener
The best thing you can do as a designer is to really listen to your customer. Don't just nod and agree to anything they say but really hear what they are asking for and anticipate their needs so you can provide helpful information and suggestions and ask the right questions to enhance the process. This helps you provide the best design solutions possible without wasting time.
8. Ask Open-Ended Questions
Don't ever go into a discovery meeting with a customer and expect to know what they are looking for. One of the best ways to really understand your customer is to ask open-ended questions. This allows them to really talk through what they're looking for. Ask follow-up questions and let customers further explain themselves. If you don't understand something, ask the customer to clarify it. Questions are important to make sure you are providing the best recommendations possible.
9. Ensure Customer Safety
In all design solutions, make sure you are thinking through the customer's safety. For a bath or a shower install project, make sure there is a clear path of mobility that is effective and safe. Ensure entrances and exits are clear and grab bars are positioned in places that will allow the customer the safest experience possible upon project completion. It is easy for a customer to get excited about the design process, and safety tends to fall to the back burner. It is your job as the designer to always keep safety top of mind for the customer.
10. Be Empathetic, Understanding and Patient
Lastly, don't forget to be human. At the end of the day, you are there to help your customer improve their life and enjoy their investment. Don't lose your humanity in trying to be too professional. Listening to your customer, caring about what they care about and being willing to be patient and truly understand what they are looking for will allow you to provide the best customer experience possible.
Being a designer is a rewarding job, but it's a job that comes with a lot of responsibility. A designer is responsible for mapping out the project that will change a customer's life for the better. That is not to be taken lightly, and if you take the right approach and follow these designer's 10 commandments, you can guarantee the best experience possible for you, your company and your customer.
—By Amy Zimmerman, vice president of marketing at LEAF Home
Photo credit: Adobe Stock 385825586