The Future of Interior Design Post-Pandemic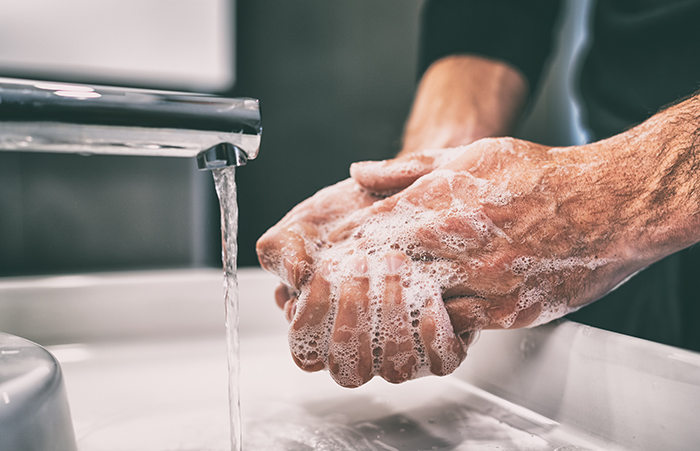 June 25, 2020
It goes without saying that the Covid-19 crisis will have a huge impact on companies and businesses. With so many organizations having discussions about bringing their staff back in, there's an increased debate about what businesses will need to do to stay safe and the future of interior design. Between automated faucets and socially-distanced desks, the 'new normal' 'will look very different!
But what will the 'new normal' look like at home? Will the crisis change the way we think about interior design? As it's looking like the virus may have a lasting impact on interiors as hygiene moves to the forefront of design, interiors expert George Holland from Victorian Plumbing has revealed the five domestic changes he's expecting to see in the future.
1. Touching Taps Will Become Taboo
Smart home features are likely to be accelerated by the coronavirus. It goes without saying that public bathrooms will have to essentially go contactless, but the sharp rise in smart tap sales suggests that similar changes will affect our homes too.
Expect to see automatic sensor taps become the new normal, which will be especially useful when you're allowed to have guests stay over again. Auto-cleaning tech might be incorporated into furniture, as well as more ultraviolet lamps, which could be designed to kill germs and bacteria.
2. Working from Home Is the New Normal
The pandemic has changed the way we think about working. Not only are many of us working from home, many companies post-crisis are going to look at office space as an unnecessary expense. With working from home becoming more commonplace, expect to see a far greater emphasis on the home office in interior design.
This means that dedicated working spaces will become the norm. Expect to see a rise in comfortable office furniture, efficient storage solutions and good lighting – all over the next few months. Expect to see a rise in distinctive, professional wall art, because the 'back wall' – seen on our Zoom calls – will become one of the most seen parts of our homes.
3. The Future of Interior Design Sees a Focus on Relaxation
Niksen is a Dutch word that translates into 'doing nothing' – essentially, it's a way to recover from feeling burnt out by relaxing without any pressure or purpose, which allows you to re-charge and come back feeling creative. In the past, many of us have felt guilt or anxiety over a Netflix binge or a day spent on the sofa. But with so many of us now forced to stay at home, we're reassessing our views, and 'doing nothing' will become more acceptable.
Interior design is likely to reflect this. Expect a far greater emphasis in design of 'sanctuary spaces,' like small corners with hammocks and cozy chairs that we'll use to unwind after busy days at our desks.
4. A Push for Privacy
The crisis has forced many of us to take on activities in the home we usually wouldn't – like meetings and calls with friends – so it can be hard to find a quiet space in the home without half your household overhearing you.
As such, expect long-term changes toward interior design and a move away from the open-plan kitchen-living room trends we've seen in recent years. Kitchens might be more cut off so cooking doesn't disturb others, or there might be separate spaces to remove shoes before you enter a home. DIY soundproofing techniques will also become more common.
5. Green Space
The pandemic may have made flats feel a little less desirable – especially those without balconies! It's not practical or possible of course for everyone to move to houses with big gardens, so expect to see more of us bringing gardens inside.
Vertical gardens and indoor gardening will boom following the pandemic, as many of us look to make our homes more relaxed, welcoming spaces. Plants are proven to reduce our stress levels and improve air quality – perfect when we're all spending more time at home.