Thinking of Summer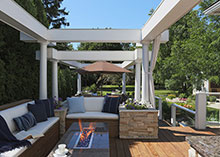 February 8, 2019
As much of the country is bracing for more winter weather, we wanted a reminder that warmer days are coming soon with a look at an outdoor kitchen project. Designed by Larry Rych of Chicago-based Imperial Kitchens and Baths, this expansive outside space was built for modern entertaining off of a 100-year-old home. KBB spoke with Rych to find out more about this design.

KBB: What were the goals of this project?
Rych: I needed to create an entertaining and dining area comfortable for two to eight people, an outdoor kitchen where food could be both prepped and cooked, and the deck had to have an architectural relationship to the house.
KBB: What were you challenged by and what were your solutions?
Rych: The deck had to be accessible to an extended family of all ages and any future physical limitations that might arise. The yard slopes down gradually from the house toward the backyard, so we made the decking at three different levels with no more than two steps between any two platforms. This makes the egress easy for the youngest and oldest members of the family.
KBB: How is designing for the outdoors different from the indoors?
Rych: The nice part of designing outside is there are no walls to confine your design. The difficult part is that you have to design the traffic pattern since there are no existing doorways and walls to define the space.

KBB: Explain your choice of cabinetry and countertops.
Rych: We live in the Midwest, and so we have all four seasons. The best material for cabinetry was all stainless-steel units designed for outdoors, which I fit it into wooden framework covered in cultured stone. The granite was selected for the counters for its unique beauty and granite's natural ability to be in the elements without fading.
KBB: Explain the entertaining level in the outdoor space.
Rych: The uppermost level is used mostly for more intimate groups of four or less. It is adjacent to the outdoor kitchen level; this way whoever is at the grill is still close to the guests. The cooking level also has seating for six around a fire feature that has plenty of room around it for drinks and hors d'oeuvres.

KBB: What about the design in the buffet/dining level.
Rych: The rectangular table seats eight comfortably with the lighted rectangular umbrella.  The serving area at one end of this level has electric wiring for a coffee urn or warming plate, and it also doubles as a potting station when not entertaining.
KBB: What was your favorite part of this project?
Rych: Now that it is complete, my favorite part of the deck is the water feature – a small running brook with rocks and greenery. I feel it completes and space and brings everything to another level of enjoyment.