Three Ingredients for the Perfect Outdoor Space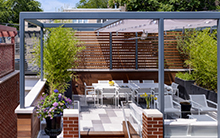 July 24, 2019
By Millie Rosenbloom
My feeling about Chicago summer is simple: It is short, so we need to make the most of every day! For me, enjoyment means creating a comfortable and beautiful outdoor space for a quiet dinner for two or to entertain large groups of friends. We remodeled our garage roof deck a few years ago, and while I labored over every design decision, in retrospect I see that there are really three key ingredients that make the space what it is: great lighting, the perfect mix of materials and our steel trellis.
Make the Most of Your lighting
The most beautiful room will fall flat with the wrong lighting, and these days there are more considerations than ever, especially around the color and quality of the light. If you aren't careful, lighting can quickly look blue or too bright white and clinical. Go for warm, natural tones whenever possible.
Outside, we went for individually dimming overhead lights above the dining table and also over the planters and trees to create a beautiful ambiance at night. We use a Control4 system, and it has worked well for us. The dimmers allow me to create all different types of looks or moods, which I love.
2. Mix Materials
With Chicago winters to contend with, it's also important to be practical when thinking about materials for the outdoors like our fiberglass planters and honed-granite fireplace surround. Here is a full list of the materials we used on the deck:
Ipe Wood: Durable and rot resistant in addition to beautiful, ipe is definitely my wood of choice for outdoor structures. We used it to build our walls and trellises, and I couldn't be happier with the rich, red color the wood adds to the overall look. Another tip: I use penofin oil every year to refresh the wood's natural red hue.
Glass: I love our glass railings! They are only there if you look for them, but once you spot them, you instantly appreciate the architectural, airy element they provide.
Fiberglass: All our planters are made of indestructible fiberglass. I love the modern yet understated look.
Honed granite: Our gorgeous built-in gas fireplace features a honed-granite surround. The granite is as beautiful as it is durable – no sealing or worrying!
3. Create Shade
We chose to build our arbor out of steel instead of wood because it is low to no maintenance and will last forever. I still wonder why so many exterior structures are built with wood. I also love the sleek look of the steel.We paired the trellis with a Sunbrella fabric awning to create the perfect contrast between the hard steel and the soft, billowy fabric.
Creating a permanent structure also allowed us to install the overhead lighting and sound system speakers. If you are looking for a more economical option, Sunbrella fabric is also used in many sun umbrellas, which are great for privacy and shade.
This blog post was originally posted on www.millierosenbloom.com by Millie Rosenbloom, a River North Design District member and a realtor with Baird & Warner