Three Tips for Better Online Photography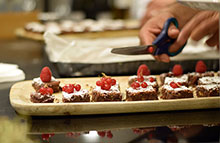 October 24, 2019
By Lori Dolnick
Everyone has a camera. With a smart phone, you have the capability to capture images, live stream video and more! But having a powerful tool at your disposal and having the ability or the confidence to use it are two entirely different things.
At the NKBA's Voices from the Industry Conference during KBIS 2020, I'll be presenting best practices for interior design and event photos, video and live streaming. Check out the session if you are there on Thursday, Jan. 23 at 9 a.m. in room N228. If you are unable to go to KBIS – or you can't wait to dive into it – here are three fast tips for improving your online photos.
Tip #1: Make a Connection
Visual content is highly impactful. In fact, web content containing photography or videos receives 94 percent more views. The mindset change you have to have when you take a photo is not about lighting or composition – although they are important – it's about the story. What story are you telling with your photo?
For example, when you are at an event, it's all about the moments. The moment someone important is making a speech, the chef preparing the meal, the laughter and enjoyment of the guests and people engaging with products. There are a lot of stories happening all around. But which story depends on how the photos will be used afterward. Do you want to demonstrate how full your event was to your internal audience? Do you want future event goers to think your events are the most fun or have the most people? What is the message? Who is your target audience? Now you can make a list of photo moments and stories to try and tell during your next event.
Tip #2: Take the Road Less Traveled
I've been taking photos since I was a kid – I won't say how many years – but I developed my own black and white film for context. I'm sure my children would respond with, "What's film?" And if you have to ask, it was a long, long time ago. Technology has transformed photography, but the rules of composition remain the same. The time-honored "rule of thirds" grid is still relevant. And if you are technologically inclined, you can use your iPhone settings to make a grid for composing photos. The theory is, if you place points of interest in the intersections or along the grid lines, your photo becomes more balanced and will enable a viewer of the image to interact with it more naturally.
The best advice I ever received was to change perspective. Get closer to your subject, find higher ground or lower angles. Focus on the foreground and let the background blur. Turn off your flash. Establishing a unique vantage point sometimes makes all the difference.
Tip #3: Take Time to Process
From the darkroom to Adobe's Lightroom, photographers have always taken a moment to process their photos. And while current trends reject the idea of heavy "Photoshopping," we aren't referring to altered reality. We are talking about looking at all your photos from the day and picking the best shots. Also, cropping photos to remove distractions or to get a better perspective. Another easy adjustment is to lighten or darken the photos so that they look better or more consistent. All of these simple tasks can be done right on a mobile device and even in the programs you took the photos in. Your photos may not be bad – just underdeveloped. Programs like Luminar and Lightroom can transform photos completely – and it's well worth exploring those if you are really into photography. Even if you are just taking 100 pictures of your cat – because cats are awesome – make the time before hitting that send or post button to try a filter, crop it differently or change the exposure.
Lori Dolnick is a marketing and communications professional who has strategically planned and executed award-winning programs for more than 24 years as a senior vice president at Frank Advertising. She has generated millions of dollars in public relations for her clients and has been quoted as an industry expert in the Wall Street Journal, USA Today, Los Angeles Times and Boston Globe.