To Market We Go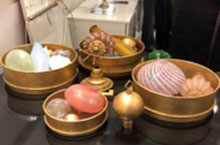 November 23, 2018
Each spring and fall, thousands of industry professionals from around the world descend upon the sleepy little town of High Point, N.C., for High Point Market. Attendees go to discover the latest interior design trends, see new product debuts and network with their colleagues and peers. It's the KBIS of the home furnishings and decor world.
This fall I was presented with the opportunity to experience a small taste of the High Point Market while attending the NKBA Design Business Summit, which was also taking place in High Point. The event began with a presentation from the High Point Market Authority, where it was made clear to us that a relationship between the NKBA and the High Point Market Authority would be mutually beneficial. Kitchen and bath designers who open accounts with merchants displaying at High Point would have access to a complete array of home furnishing products and decor.
Following the presentation, NKBA designers were divided among five tour guides, who each had favorite showrooms and manufacturers to share with us. Short of sounding like a giddy teenager, the next couple of hours were amazing. The only time I probably stopped smiling was to sip champagne or nibble on a delicious morsel.
I went to the market to get answers to questions like: When I am working on a kitchen remodel, do I have resources if the homeowner asks for help in the living room or bedroom? Will I have sources for furniture, soft goods, artwork and beautiful lighting?
 We were lucky to meet some designers who could talk to us about their products and answer these kinds of questions. One of these was Raleigh, N.C.-based designer, Louise Gaskill (picture below in yellow blazer), who turns recycled Murano glass into the most amazing lighting. Clients commission custom pieces, and Gaskill works her magic to create them.
NKBA-certified kitchen and bath designers should not be afraid to apply their knowledge to other areas of the home. Even if one is completely content to focus only on kitchens and bath, it is difficult not to be impressed with the sheer volume and variety of quality products available at High Point. From exquisitely designed furniture to handcrafted lighting and decor items, I was excited and inspired as we ventured from one venue to the next.
Following the tour, the NKBA designers spent the evening socializing with colleagues. It was a fun way to end a busy day.