Touring Oceanside Kitchens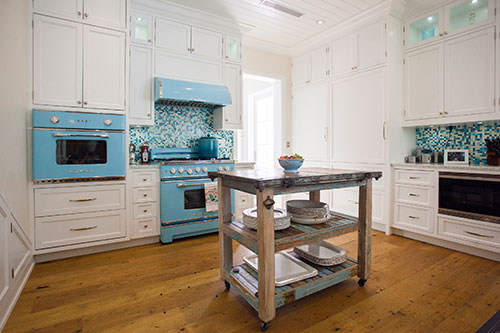 March 1, 2019
Just south of Miami, the Coral Gables, Fla., community is known for its beautiful architecture and seaside views. Now in its tenth year, the Coral Gables Community Foundation's Tour of Kitchens recently inspired guests with the latest in kitchen and home design, while offering indulgences from local restaurants and vendors along the way.
               1400 S. Greenway Drive (photo by Katherine Dagand)
More than 500 tourists drove or biked around the city visiting homes, including local celebrities Rod Hildebrant and Matthew Meehan's 1929 Mediterranean revival home.
"Although Coral Gables traditionally has followed a more classical and Mediterranean palette for architecture, this year's Tour of Kitchens proved there is a continuing move toward modern kitchen design, as is the case nationally," said Venny Torre, chair of the Tour of Kitchens in an exclusive interview with KBB, explaining that he is seeing more minimalist and streamlined designs this year. "Kitchen islands have become a staple in most kitchens, and white cabinets still make up the majority of new designs and remodels."
                1822 Country Club Prado (Photo by Katherine Dagand)
Tourists also visited a new development, Beatrice Row, as well as the Miele and Snaidero showrooms. The tour concluded with a closing event hosted by Ferguson Bath, Kitchen and Lighting Gallery.
                   6857 Granada Blvd. (Photo by Katherine Dagard)
"The use of man-made stone tops such as quartz is the standard, not the exception," added Torre, explaining his observations of the homes on the tour. "The availability of excellent versatility of designs and patterns and the quality of the material make real stone tops hard to compete with. Even so, many traditionalist homeowners and designers in Coral Gables still demand and specify real stone for the kitchens and baths."
                  7120 Mira Flores (Photo by Lauren Kahn Uzaarek)
Proceeds from the Tour of Kitchens benefit the Coral Gables Community Foundation and its culinary arts fund, which provides support and scholarships for the culinary arts program at Coral Gables Senior High School.
                     The "Party Home Kitchen" at the Bolducs home