Trends in Luxury Fixtures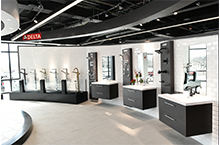 February 27, 2020
By Sabrina Garcia, Wayne, Penn.-based Exquisite Designs
Fixtures are not just utilitarian pieces in a kitchen or bath; today plumbing can be a highlight and a focus in a design. In the luxury market in particular, where customization and smart technology reign, trends include bold finishes, wellness-focused design and attention to detail. Below are some of the top fixture trends we've noticed for 2020: 

1. The year of the finish: 
Matte black is the new brushed nickel. This finish has been equally popular in the kitchen and bathroom, and most manufacturers have come out with their own version of it.
Contrasting finishes: Using two different finishes is a way to add interest to a space and highlight different elements or functions.
Brass is back, but in a new way. The polished version is a thing of the past, however satin brass, antique brass, aged brass and unlacquered brass are very popular in both kitchen and bathroom applications. Brass finishes are a great way to make fixtures pop and bring a rich element into any room. 
Split finishes: Single products with multiple finishes are becoming a strong trend in plumbing design. 

2. Custom showers with multiple outlets: Custom showers are becoming more popular, especially in master bathrooms. Rainheads, body sprays and handhelds are requested to maximize shower performance and flexibility. 

3. Smart plumbing: As Americans' lives become more technologically advanced, so do their homes. Recent trends include digital showering and electronic faucets. Consumers are looking for instant gratification and convenience, which these intuitive products provide on a daily basis. 

4. Industrial elements: A focus on industrial elements has become pronounced in the plumbing industry. Key elements include exposed valves, knurled patterns and "unfinished" aesthetics. 

5. Stacked trims: Consolidated controls achieve a contemporary, minimalist look. Consumers appreciate them for ease of use as well. 

6. Textured accents: These are a subtle way to add interest to a faucet finish.

7. Exposed plumbing: This trend has taken off with the industrial look and feel. Consumers like to see what is behind the wall and appreciate working parts and how water travels.
 
8. Bridge faucets: Single-hole pull-down faucets were once the most popular kitchen application, however a recent demand for bridge faucets has manifested. Consumers have been drawn to the elevated profile and eye-drawing aesthetic for a common kitchen appliance. 

9. Kitchen sinks & faucets for a chef: Sink manufacturers have been expanding sink accessories to aid homeowners with everyday and special occasion kitchen preparation. Faucets as well have been following a professional trend with exposed coils that elude to restaurant faucets in fine dining. 

10. Filtration: Demand has increased for separate filtration faucets for the kitchen. They are available in hot and cold, hot-only and cold-only applications and provide immediate filtered water for the end user. Consumers are becoming more conscientious of what is in their drinking water and what is going into their bodies.