Trends or Tragedies? Four Design Concepts That Are Here to Stay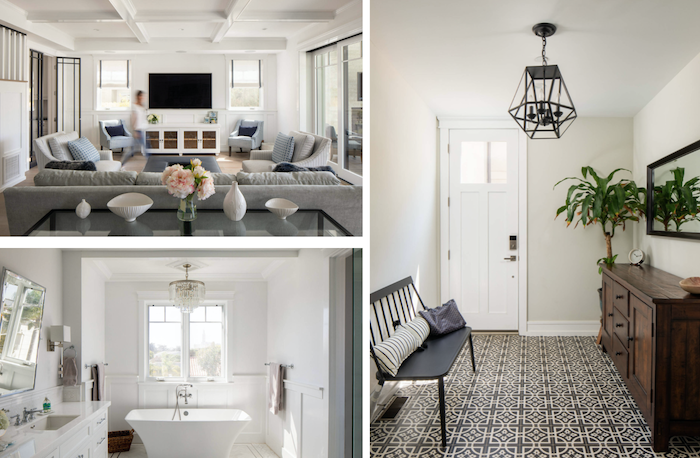 February 28, 2022
Modern Farmhouse. This look seemed so specifically simple and trendy that I thought it would come and go in a few years, as many trends do. But the basic subway tile with charcoal grout, white-washed brick and reclaimed beams remain, thanks to Magnolia Home and social media. It's oversaturated the design industry (along with one too many mason jars). It is now morphing into a more minimal, contemporary look, which at least feels better. As a designer, my goal is to take my clients' modern farmhouse hopes and dreams and transform them into something a bit more personalized and upscale.
Brass Fittings. Originally, this metal trend was associated with the shiny yellow-gold hardware from your grandmother's antique furniture. But the new modern take on "gold" is sticking around in the top tier of trends. I'm not sure it has hit its peak, as we are still seeing brass used in all aspects of design. I would say the challenge is trying to coordinate all the different tones of the metal produced by the hundreds of companies creating their own signature finishes. To avoid a brass hangover, I highly suggest mixing metals. But overall, I'm happy to be in the decade of brass!
Boho. Oh my gosh! I thought this trend was going to continue as a play on mid-century-meets-hippie-vibe-meets-teenager-hang-space, but it's become a vintage-inspired staple that has infiltrated the photography and film industries and the retail realm. Populated with macrame, layered plants, refurbished antiques and warm color palettes, the boho look is not going away just yet. My battle with this style is that it's a dime-a-dozen and doesn't acknowledge our centuries of history. Although I'm looking forward to boho wrapping itself up in a bow and getting filed deep in the archives, at the least I'm hoping to see it evolve – with greater grounding in mid-century design and less of the thrown-together look.
The White Kitchen. Although I am starting to see more color and more neutral palettes across the board, white is still in. But isn't white always in? Yes to white. But no to continuing to do all-white kitchens. The days of white-on-white are finally numbered, and the growing trend of warm taupe cabinetry, oak tones or even a super intense hunter green kitchen is taking the industry by storm and I'm here for it and loving it!
—By Christine Vroom, owner, Christine Vroom Interiors