Trends Spotted at KBIS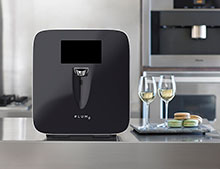 January 27, 2020
Last week's show revealed the industry's best innovations, artistic products and creative additions to the kitchen and bath industry. There were popular products and styles that we expected, while some others were surprising but no less delightful. Here are just some of the top trends the KBB editors spotted at the show: 
COLOR. Pantone's Classic Blue was a big one here and showed up in cabinetry, ranges, tubs and vanities. However, we also felt like bolder and warmer colors in general were more evident at the show, including sunny orange, golds and warmer neutrals.
BRINGING HOME CHEF-INSPIRED TECHNIQUES. Steam bake and sous vide were still big this year – including now air sous vide – but we also saw quite a lot of air fryer features in new appliances. With built-in thermometers and included frying racks, these appliances make it easy to do a healthier and more upscale type of meal.
APPEALING TO THE WINE SOMMELLIER. The KBIS Design Bites winner, Plum, kicked off the show with its by-the-glass, wine-serving, built-in appliance, and several other manufacturers seemed to also have caught on to this type of consumer. Wine coolers focused more on preserving wine with anti-vibration technology and the correct light and even featured glass-chilling storage and special display cases.
FUNCTIONAL WELLNESS. Yes, nature-inspired surfaces and natural materials are still a way to promote healthy living, but consumers are looking for even more immersive ways to make their homes better for their health. These include water and air purification, which help fight against allergies and potential toxins in public water.
CONNECTED TECHNOLOGY. This was always going to be a given, but we saw manufacturers really thinking out of the box with smart home tech. Besides Wi-Fi connectivity, appliances were able to use AI technology to identify food and guide users through different recipes, even monitoring and notifying them when to flip, stir or when desired doneness is reached.
What trends did you see at KBIS 2020? Let us know on our Instagram page @KBB_magazine.