Using Pantone's Living Coral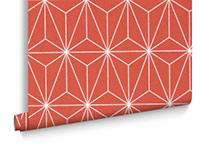 December 27, 2018
For 20 years, Pantone's Color of the Year has influenced product development and purchasing decisions across many industries, including interior design. The color trend authority announced Living Coral, an animating coral hue with a golden undertone, as this year's color. This tone represents consumers' desire for more authentic and immersive experiences, as well as the need for more natural and joyful experiences.
Many manufacturers embraced this color in a variety of products, giving designers the opportunity to include this warm tone in their upcoming projects.
The Kaboom Rug from Illulian depicts an explosion of Living Coral. This pattern recalls a highly-charged, impulsive style of abstract painting during which paint is energetically splashed, spilt or dribbled onto a canvas.

Now available in salmon, Big Chill's Slim Fridge is designed for smaller spaces, features the trademark vintage appeal and includes a stamped metal body and a pivoting chrome handle. Other features include a full-width door, an ice maker and automatic defrost. www.bigchill.com
 Tempaper introduces Flora, a greenery-inspired wallpaper with a warm, pink design. The material is a self-adhesive, repositionable, removable fabric wallpaper and has a Type A fire rating. www.tempaperdesigns.com
Nemo Tile + Stone's DIVA by Appiani Collection is now available in coral. This square mosaic tile pattern offers a modern and simple appeal ideal for a pop of color in the kitchen or bath. www.nemotile.com
Elmira Stove Works has announced that its Northstar line of retro-inspired appliances is now available in Living Coral. The complete line of Elmira's retro-styled Northstar appliances, including refrigerators, ranges, range hoods, microwaves and dishwashers, can be ordered in the Pantone 2019 color as a custom option.

Jetclass now offers the Pierre Bar Stool in Living Coral. The chair, which has a distinctive vintage feel, can be customized with either polished or brushed stainless steel in various complementary tones.
Prism from Graham & Brown embraces mid-century modern décor with an updated aesthetic, now in Living Coral. This chic, distinctive style blends structured forms, delicate lines with a rich tangy palette for a sought-after modern interior design look.