Walk-In Tubs: An Aging-In-Place Design Asset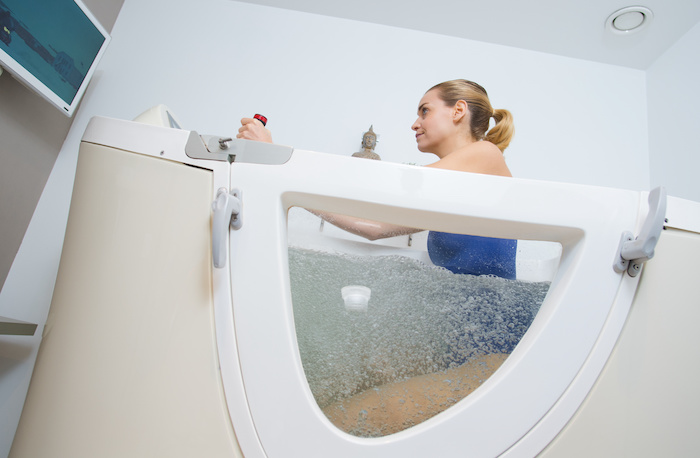 August 1, 2022
Demand for walk-in tubs is growing at double-digit annual rates. And while manufacturers report having enough supply to keep up, their growth is limited by the lack of qualified installers.
"Every day, more baby boomers want a walk-in-tub so they can age in place in their family home," said Michael Light, national installation leader at American Standard. "Despite the growing opportunity, there just aren't enough installers to handle the demand."
Modernize Home Services is also seeing a mismatch between homeowner demand and available contractors. Here are a few insights to help you determine if walk-in tubs might be a product you should offer.
Walk-In Tubs Can Boost Revenue
Installing a new walk-in tub requires removal of the old tub, new plumbing and electrical, a multi-person team to deliver and set up, plus potential additional costs if a bathroom requires repair or retrofitting. The products themselves often cost $5,000 to $6,000, but the total all-in cost can be upward of $15,000.
Upsell Opportunities
Other aging-in-place needs often come up when homeowners are considering a walk-in tub: grab bars, ramps, lifts, etc. Water heater replacement can also be necessary; a standard 40-gallon water heater will not be sufficient for an 80-gallon walk-in tub.
Demand is High
As a contractor, if a slow-down in housing sales is reducing your opportunities, this segment of homeowners can provide you with more leads. These tubs improve the safety of what can be the most dangerous part of the house, allowing those with arthritis, balance issues or a disability to safely get in and out of the tub. This product can make all the difference for people who want to maintain their independence and avoid the cost and stigma of moving into an assisted living center or retirement home. And the audience you sell to extends beyond the homeowners who need the tubs; it includes proactive friends and family.
Are You Ready?
There are both challenges and opportunities in becoming a walk-in tub installer. How do you select the correct brand and model? Will it work with the current space and plumbing? How should the jets, drain and door opening be oriented? Does your state or local government require specific licensing? Can you demonstrate to homeowners that you will do a quality job? If you're intrigued by the possibilities but unsure how to prepare, one way to get on board is to partner or align with one of the national product brands.
Manufacturer Support Available
As with any new line of business, there is a "tuition" cost required to learn and enter this market. American Standard, for example, has a program to train and deploy a nationwide staff of certified installers for its line of walk-in tubs. Installers accepted to the program learn the ropes through a multi-day onsite course that includes classroom instruction on installation techniques and supervised run-throughs in multiple-sized realistic bathroom mockups. Upon course completion and certification, installers then operate as an American Standard subcontractor with access to the brand, its business systems and support resources.
"We have customers lining up to buy walk-in tubs," said Light. "Since our constraint to filling demand is installation bandwidth, we're investing heavily to ensure our customers can be served by experts that are equipped, available, motivated and engaged in providing a turnkey solution."
What About Marketing?
To connect with homeowners interested in these products, start by adapting current marketing and sales systems to showcase your installation capabilities. For instance, update your website and social listings to prominently feature the walk-in tub product category or aging-in-place bath renovations. Consider buying ads on Google, Facebook or other digital platforms.
Another alternative is to purchase leads specifically interested in this product category from companies like Modernize that connect homeowners with home improvement professionals. Those are usually delivered on a pay-per-lead basis, and some providers can pre-qualify the leads before handing them off to the sales team. This can be valuable for dealing with customers who have done their own Internet research and are buying a product they have not used or purchased before.
—By Gregg Hicks, vice president of Modernize Home Services. He has 20 years of experience across web analytics, SEO, social, SEM and affiliate marketing.