We're All Connected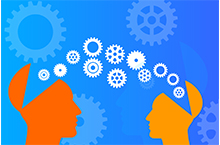 February 4, 2020
February's webinars continue the exploration into technology and applications for the smart home.
By Dianne M. Pogoda
Among the buzziest terms circulating at KBIS last month were "connected homes," "wellness" and "Living in Place." This month's webinars cover elements of these topics in the context of the smart home, and what takes a home from being "smart" to being "connected."
Each month, NKBA offers free 60-minute webinars, each of which features a presentation by an expert in the specific subject matter, delivered via a virtual platform. The sessions offer certified participants 0.1 CEU per event — it's an easy way for designers to collect the CEUs needed to maintain NKBA certification. Participants must engage in 80 percent of the sessions to receive CEU credit; registration closes two hours prior to start times. All webinars in 2020 begin at 12 noon, Eastern Time.Create an account at the NKBA store at www.nkba.org to register.
Starting the series on Feb. 13, smart home tech expert and 2019 NKBA Insider Ryan Herd, founder of Caregiver Smart Solutions, will present "What 'Smart' Technology Does My Customer Need as They Age in Place?"
Any designer involved in building or designing for the elderly or using principles of Living in Place/Universal Design needs to be up to date on the technology that's available and most valuable to older homeowners, who will increasingly rely on technology for companionship, doctor visits or simply seeing who is at the door. Ryan Herd, the "Smart Guy" and author of Join the Smart Home Revolution, will explain what the aging population needs and wants and will offer information about devices and sensors that can monitor movement, lighting and security for seniors as they continue to and desire to live independently in their own homes. Part of the barrier to adding home technology is consumers' notion that they think they don't need it. Herd will provide talking points about how the tech can help seniors, what's most important to them – like safety, communication with the outside world, improved lighting and more – and how the tech improves their independence.
Next up, Ed Wenck, content director for CEDIA, will decipher one of the buzzwords in the wellness sphere, in "Wellness – What's Biophilia?"on Feb. 19. Humans spend 90 percent of their time indoors, according to the EPA – the most amount of time in history. After thousands of years of spending the bulk of their existence outside, people are wired to directly respond to natural changes in light, sound, scents and breezes, among other stimuli. Lighting affects sleeping patterns via circadian rhythms, and sound and air quality also factor into people's state of wellness.
The full spectrum of the outdoor environment, such as low color temperatures that trigger the body to produce calming melatonin, or natural noises, like rainfall or wind rustling through trees, can be reproduced indoors. It's all part of "Biophilia," an emerging segment of the wellness field, and Wenck will explain the new technologies and the application of existing ones that can have a major impact, and how CEDIA integrators can help install them in part of a whole-home connected experience.
Next, on Feb. 25, Brad Hintze, senior director of product marketing at Control4 , will discuss the "Five Levels of a Smart Home." In this session, he will explain the difference between smart things and a truly smart home – that is, a home that has some smart products, like a programmable thermostat, and a home in which all the systems are integrated and work with each other. He will illustrate the five levels of a smart home, true integration and what that means to designers in their projects, the art of automation orchestration, and where the future of the smart home is going.
Finally, on Feb. 27, Leonie Claus, kitchen and bath manager at Cosentino, will journey to "The Kitchen of the Future." She'll explore what future kitchens might look like, emerging trends and how the space might function, as well as surfaces and design will affect kitchens in the coming decade and beyond. Today's kitchens might have sleeker appliances with better materials and more color options, but they are still the hard-working heart of the home.
Claus will show how this space is evolving, discuss the importance that outdoor kitchens will play in the next couple of years, and how they will impact interior kitchen design.
To register for these webinars, please visit: http://bit.ly/3b9ZxoP.