What Do You Mean "Custom?"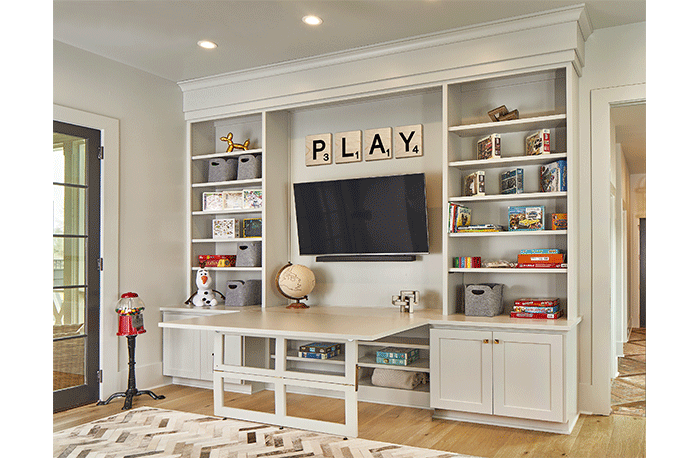 March 5, 2021
I always have and always will love puzzles. To sit for a weekend with a difficult puzzle that looks like clutter and chaos and to put it together to create a nice, neat and beautiful picture sounds blissful to me. I have also enjoyed passing along my love of puzzles to my daughter, watching her try a harder and harder puzzle for herself.
One of the most fundamental and basic principles of putting a puzzle together that I taught her was to start with the outline. As I began designing kitchens, I was astonished to see how similar it was to a puzzle. You start with clutter (and the occasional chaos), you create the general outline or border, and you fill in the remaining space to create a nice, neat and beautiful kitchen. Sound familiar?
Overcoming Challenges
So, what do you do when the outline is irregular? As just about everyone knows, houses are irregular. Whether it is because of foundation issues, contractor error or just a simple settling of building materials, walls are rarely straight. Likewise, depending on the materials you are working with, you might be limited to set dimensions that do not fit in every space. For example, stock or semi-custom cabinets come in 3-in. increments only. So, to try to "finagle" a design with limited dimensions is like operating with limited-sized puzzle pieces; you end up with leftover space and you have to use a filler – or a strip of wood a carpenter cuts – to fill the gap. Like the old infomercials say, "There has to be a better way!"
Custom cabinetry, like Custom Wood Products in St. Mary's, Kan., solves the problem of the puzzle piece that does not fit. Custom cabinets do not have set sizes. They are designed and built to whatever dimension is called out. They are built with the specific customer in mind, and no two cabinets are typically the same.
When I was learning to design kitchens, I was taught that a traditional designer would start in the corner and try their best to fill the wall. Generally, they try to land the sink cabinet under a window and use fillers to make up for lost space. With custom cabinetry, however, I am able to place the centerpiece of the kitchen, whether it is a sink, cooktop, tower or otherwise – exactly where I want it – and fill in the remaining space with whatever size of cabinets I need.
Moving past general dimensions, custom cabinetry gives you control of openings as well. If you know ahead of time what you want to place inside a drawer, such as dishes or pots and pans, we can design the opening for your items to fit exactly in their desired location. Again, this leads to no wasted space.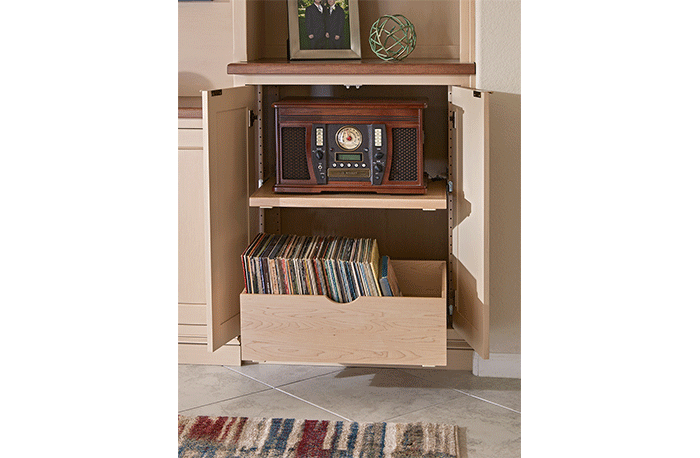 Custom Projects
With custom, we can capitalize on your space in creative ways. A few years ago, I received a call from a wonderful woman looking for a custom builtin. Her biggest ask was that we design it in such a way that her husband could keep his old record player, but in a place that she did not have to look at it. These requests are some of my favorite because I get to play the hero by coming up with a solution that mends a relational rift, however small it may be.
We followed up by measuring his record player, talking through how he used it, how often he played music on it and how many records he had. We went to work and designed a beautiful custom cabinet piece with very specific dimensions to waste no space. We even designed a custom rollout shelf so he could display it while listening to tunes, but it could be hidden from the view of his wife while not in use. Another ask for this project was to warm up a very gray and monochromatic open concept, for which we used a warm-style, hand-brushed finish; and to not show the television, for which we used the Samsung Frame TV so that it looks like a simple piece of art when not turned on. In the end, the couple was far past delighted and enjoyed the compromise of decluttering while still playing their fine music.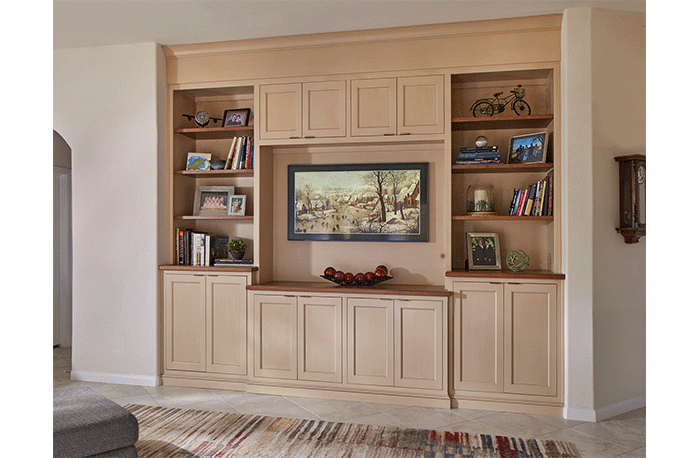 Another aspect of custom cabinetry is the finishing. If the cabinets are prefinished, meaning they come from the factory already painted or stained, that will always be preferred because finishing in a controlled environment will be superior to finishing at the construction site. Simply imagine the amount of dust and clutter a remodel is covered in, and you will understand why pre-finished cabinets are better. I have always stayed impressed with Custom Wood Products' finishing process. They start from the beginning with standard finishes, accommodate any fan deck colors and even have the capability to create custom colors for cabinets. We can get the exact desired color by specifying the amount of red, black, blue, brown, etc. This feature is incredible for those homeowners with a very specific style in mind.
My very first cabinet job will go down in history as the most custom finish I have ever done (so far…). What I called the "Mossy-Oak" hutch, this cabinet was stained, glazed and then painted, scraped and glazed again. The result was a beautiful finish that had paint with glaze showing through to give it a "camouflage" look. It also had subtle texture from where the paint was scraped, which gave it an even more custom feel compared to a flat, simple color finish.
Lastly, I want to talk about the features and accessories of custom cabinetry. If you spend just a few minutes on a design-inspired website like Houzz or Pinterest, no doubt you will see pages and pages of special elements in kitchens, baths and more. Ranging from drying racks, to stepstools, to composting and more, custom cabinetry gives the opportunity to create solutions that one may not have even considered.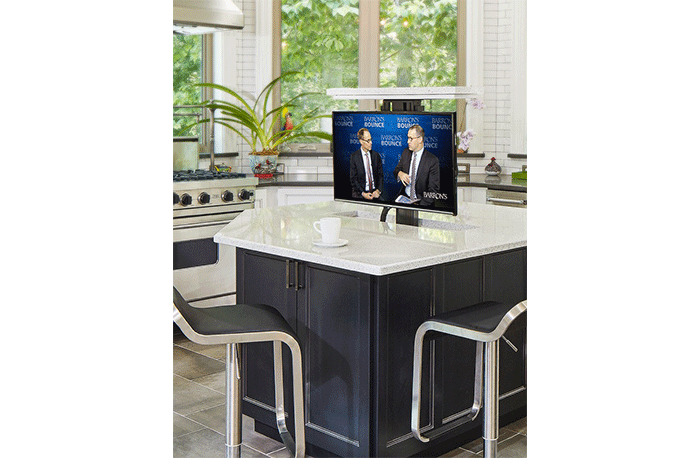 Some of my favorite designs have these special features that set themselves apart from others. I have designed paper towel holders into drawer fronts, pop-up TVs, hidden drop-down desks and wood hoods from scratch. Our saying is, "As long as it does not defy the laws of nature, we can create it." To lean into the puzzle topic, recently we created a tabletop in a sitting room that folded and collapsed when not in use. It was even used for family puzzle time.
As a designer working with custom cabinets, putting puzzles together has never been so much fun. With each kitchen, bathroom, office, laundry room, etc., being different from the last and using our partner's capabilities, we can tailor our design to meet the exact needs of your home. We end with a nice, neat and beautiful space that is custom to you.
-By Andrew Risinger, CMKBD, CR, Sales Manager & Lead Designer for Kitchen, Bath & Home
See the original post HERE.