You Can Handle It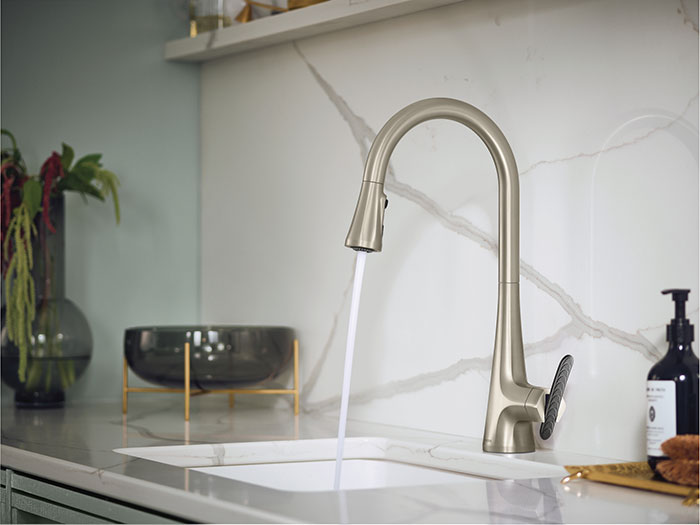 February 20, 2020
I'm still thinking about all the great, beautiful and innovative products at KBIS this year. It's a lot to cover in three or four days, and as exhausting as it was, I could have used more time! Thank goodness for all the postings from our fellow designers, groups and blog tours, etc. But it's still never enough.
Of course, the buzzwords of the show were "smart" and "wellness," which were everywhere. As a sustainable designer, this makes me very happy, although I'm still on the fence about some of the tech. But from all the research I've done, the millennials and the Gen Z-ers are all down with it, and it's definitely changing the way we design and live.
I had a conversation at the show with Gena M. Kirk, vice president of corporate design for KB Homes, who was scoping out some new products and technologies for KB's design studios. I asked her some pointed questions about what younger buyers are looking and asking for during this process. I was pleased to hear that they are very focused on health and wellness, love any technology and want their home to be a personal statement of their own lifestyle. They want custom features and shy away from anything 'cookie-cutter.'
I've been following this trend toward customization for a couple of years and continue to see the use of mixed metals and materials on plumbing fixtures and hardware. Custom colors, laser printing, smooth and rough textures together are just some of the cool additions to this year's lineup of these pieces.
INOX combined two industry-first creations for door hardware, CeraMax Rainbeaux and INOX Laser Art, offering builders and designers the ability to match any design aesthetic in commercial or residential projects.
The matte black finish on the Sinema faucet from Moen with a matching handle is pretty enough as it is. But now you can switch to a beautiful Art-Deco style textured handle in a soft brushed gold finish as an alternative, adding that mixed metal custom look and a bit of glamour easily, at no extra charge.
The STRAP line of faucets from SONOMA FORGE mixes a smooth stainless finish with industrial looking black accents for a stunning custom look.
Brizo has introduced LITZE bath faucets and accessories, bringing together the sleek look of modern metal with the warmth and texture of wood. A little mid-century, modern or even industrial, this collection of designs has been elevated to art and includes beautiful vanity knobs and hooks.