27th ICFF Achieves Successful Expansion
---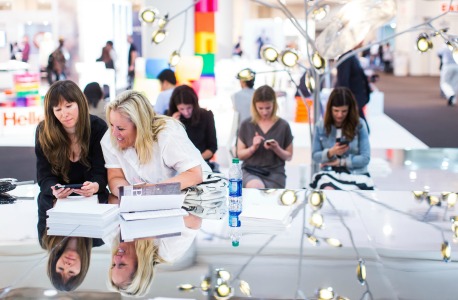 June 5, 2015
Global design fair ICFF, the keystone event in NYC x Design, celebrated an impressive expansion in exhibitors, programming and attendance at its May 2015 event. With 30 percent more floor space, ICFF delivered a unique collection of new global and domestic exhibitors, as well as an on-floor education program, curated by the American Society of Interior Designers (ASID), which drove a seven percent increase in attendance by industry professionals. The enlarged footprint resulted in strong multiple day participation, creating active aisles on two levels of New York's Jacob K. Javits Center. The more than 247,000-sq.-ft. exhibition space showcased hundreds of cutting edge products from around the world, outpacing the double-digit expansion experienced in 2014.
Pivotal to the Fair were the introduction of the Luxe Interiors + Design, which featured "classic" designers and brands, and the Ho.MI New York Pavilion, which introduced top Italian designers and brands with an emphasis on lifestyle and accessories items.  
"Based on overwhelmingly positive reactions – from exhibitors and attendees – I'm confident ICFF 2015 set the stage for an even more impactful ICFF 2016," said Kevin O'Keefe, ICFF event director. "We've already received many requests for space increases. It's also very clear that both LUXE Interiors + Design and Ho.MI New York pavilions are going to require a much larger footprint in 2016. The industry can look forward to ICFF taking another big step up next year!"
Learning opportunities abounded at ICFF, with more than 1,000 attendees attending upwards of 25 conference sessions and presentations. The American Society of Interior Designers (ASID) offered a full slate of Interior Design Continuing Education Council (DCEC)/ Continuing Education Units (CEU) approved sessions throughout the show, while internationally recognized industry leaders shared their knowledge during ICFF Talks. Topics ranged from innovation in materials, through new design approaches in color and style for residential, hospitality, contract and luxury retail environments.
The show also offered an opportunity to promote design for good by hosting the New York Chapter of the International Furnishings and Design Association (IFDA NY) third annual Take A Seat exhibit. The exhibit featured the chair designs of 22 top designers, which were unveiled at ICFF and will be auctioned off to benefit Habitat for Humanity, NYC.