5 Helpful Plumbing System Considerations When Remodeling a Bathroom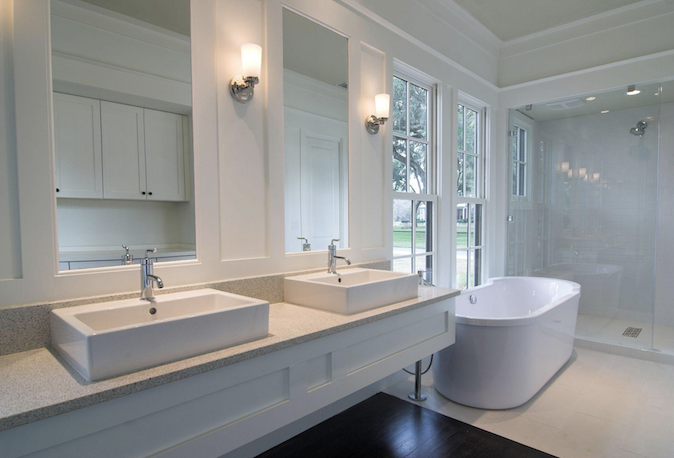 June 21, 2023
This article was originally published on June 21, 2023; it was updated on July 5, 2023.
There are many aspects to consider when designing a bathroom, especially for a major remodeling project. While designers primarily focus on a bathroom's functionality and beauty, many challenges related to the design of the bathroom plumbing system come into play, especially from the installing plumber's point of view.
The plumbing system is one of the most important elements in any bathroom design. It will dictate what fixtures can be used and where they should be located. It's important to take the time to plan and further understand this system before choosing fixtures and products, as the plumbing layout will affect what you can do with the bathroom and how much work is involved in installing the fixtures.
Although designers are not responsible for engineering plumbing systems, the plumbing system and product choices are usually determined more by the architect or the interior designer, whose specifications tend to be driven by the homeowner's preferences.
Below we detail five helpful considerations, from a plumber's perspective, to overcome some common residential plumbing system challenges during bathroom remodels.
1. Fixture Location in Relation to the Plumbing System
It's best to centralize wet areas or plumbing fixtures, so that the plumber can easily make plumbing connections; e.g., locating the bathroom above the laundry room, while having other ensuite or half baths within, say, 10 feet of the main plumbing stack.
In addition to increased efficiency and saving time on the installation, it's also more cost-effective to place all fixtures in a centralized location than it would be to place them in multiple locations throughout a home.
We also recommend planning the bathroom layout, so that the pipe can be run efficiently. The better fixtures are positioned, the less piping the plumber needs. This also saves the plumber time and the homeowner, labor costs.
2. Structural Considerations
Another worthwhile consideration is to identify where the plumber will face certain structural challenges before deciding on the location of a fixture. One challenge would be placing a bathtub where the space between joists is very tight. This situation can cause numerous on-site frustrations, such as confined space for the plumber to solvent-cement pipe connections, tight measurements, and guesswork.
However, if your options are limited, consider finding innovative ways around this issue to make it easier for the plumber. For example, consumer demand for freestanding tubs has increased in recent years. However, ask any plumber how they feel about installing a freestanding tub, and they will likely share multiple job-site frustrations involving the installation of the drain.
A universal freestanding tub drain (below) is the most convenient way to install freestanding tubs. It removes guesswork and complexity, while making this growing trend more accessible to homeowners.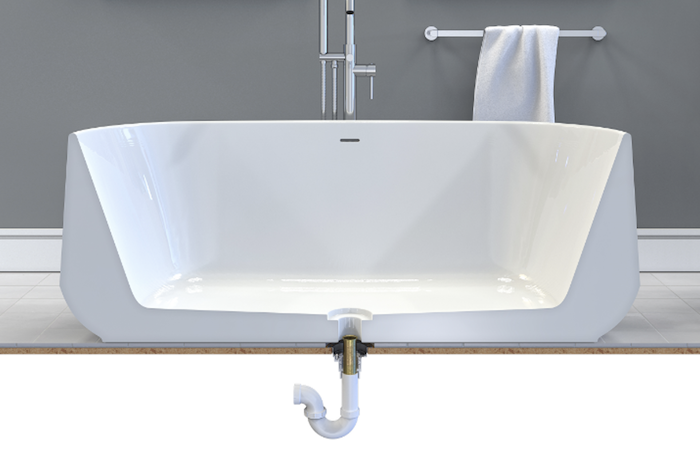 Specifically, this innovation offers an easier and faster way to install freestanding and island center and offset tubs by eliminating the stub-out method, as well as the need to access the drain through the ceiling of the floor below. The latter is terribly disruptive for both residential and commercial spaces. The compact size of the freestanding tub drain allows it to fit inside 8 in., 10 in. and 12 in. joists. It can also be installed inside a 4 in. hole saw opening, making it great for remodels.
From a design perspective, the ability of a universal freestanding tub drain to fit easily between floor joists allows flexibility regarding tub location. It is also less costly to install, since you don't need access from the ceiling below. This advantage, in turn, allows you to invest more money in other design elements.
Another innovative solution is a flexible bath waste direct drain like True Blue FLEX. It features flexible and adjustable tubing that serves as an alternative to rigid PVC, making it easier to overcome residential jobsite obstructions, such as floor joists, misaligned/offset drains and severely sloped walls.
3. Relocating Plumbing
When designing a new bathroom, it's important to consider all of the plumbing system connections. These connections can sometimes be difficult and expensive to relocate.
In addition to considering the cost of relocating fixtures, ask yourself if it is actually feasible. For example, how far will the new shower be from the hot water tank? Do you need to install a recirculation pump to get hot water at the shower head faster?
If the homeowner decides that relocating the existing fixtures isn't worth the hassle and expense, again, consider finding innovative ways around this issue. For example, with a linear drain system (below), a plumber can adapt to any existing plumbing conditions, making for an easier installation without any relocation fees for the homeowner. The system comes with onsite-customizable components that will fit nearly any shower enclosure's size and condition.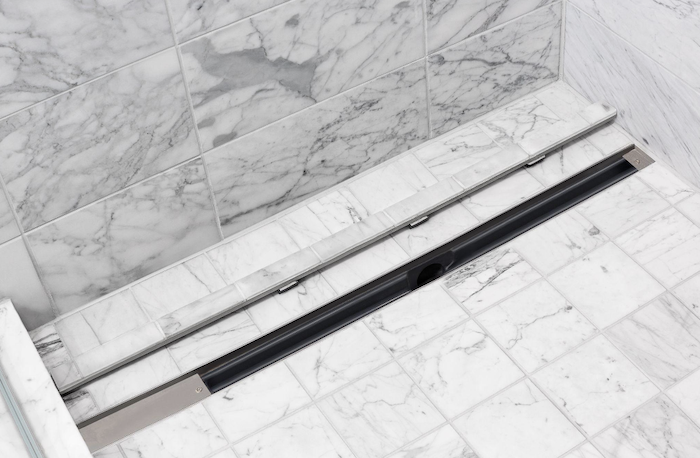 Finding a solution that would allow the plumber to adapt to unexpected plumbing rough-in configurations is key. When removing older tubs, the drain is often off-center. But jack-hammering or core-drilling through the concrete to adjust drain positioning is not always feasible. Even if it is, drilling can be prohibitively expensive for homeowners, so it's usually not an option for residential remodels.
A solution like a site-sizable linear drain body solves the "off-center drain" challenge. It can be customized to adapt to existing drain locations, while also covering the fact that the drain is off-center. Bypassing some of these costly, time-wasting, job-site challenges can help contractors complete a bathroom remodel much quicker.
4. Installation of Innovative Products
When you specify an innovative product, we recommend ensuring the general contractor uses a subcontractor on the manufacturer's approved vendor list or someone trained on that particular system.
Some contractors push back when installing a newer, unique system. So finding an installer who's a preferred vendor is ideal. But if you cannot, you want someone receptive to being trained.
Training is essential because it provides the crew with a solid grasp of how a system works, while making sure they're installing it (1) for performance and (2) to make sure the warranty can be maintained.
We also recommend providing the plumber with information up front, such as submittals, instruction sheets, and local-rep phone numbers (so they can quickly reach out for any advice.)
5. Finish Matching
While most plumbing-related products are behind the wall, drain covers and strainers are visible in front of the wall. Finish-matching for drains can be challenging, so we suggest choosing a drain system with various finish options.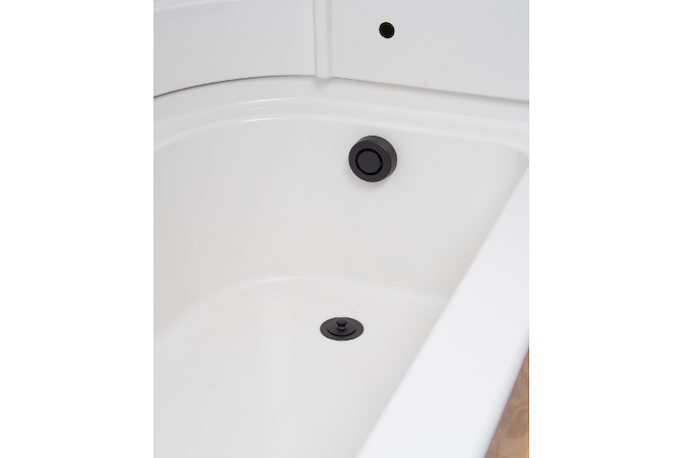 In an on-trend finish, the Dearborn True Blue Bath Kits can transform a bathroom space in a few easy steps. Dearborn True Blue Bath Waste kit allows you to change the trim, i.e., the finish, without removing the spud. The True Blue overflow cover locks with a simple clockwise turn, requiring no additional tools or screws for installation. If the homeowner or designer changes their minds on which finish to use, it allows the contractor to quickly change the trim without removing the spud and requires no additional sealants.
However, the real challenge comes when you specify higher-end, decorative plumbing fixtures. Finishes like rose gold, matte black, and satin nickel don't always translate from product to product, so sometimes it's better to keep it simple and stick with polished or satin chrome.
If matching styles is more important than matching finishes – for example, if you have an industrial theme – consider using similar materials, but different colors throughout the bathroom. This way, everything looks cohesive without being too matchy-matchy.
—By Sean Comerford, technical applications manager at Oatey Co. Comerford is a third-generation tradesman with nearly 20 years of plumbing experience, including serving as the lead plumber for commercial/residential new-construction, service and fire protection jobs. He holds a State of Ohio Fire Protection License for Sprinkler and Standpipe.
Photos courtesy Oatey Co.