5 Technology Trends Designers Need to Know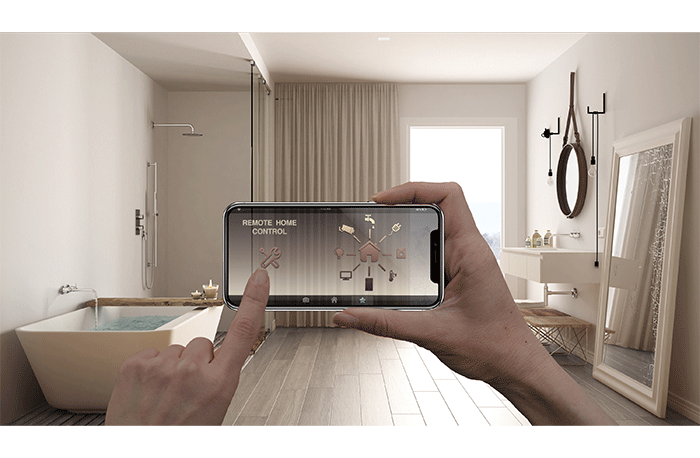 November 7, 2022
The convergence of home technology and interior design is forging some of the most fruitful partnerships these industries have ever known. Integrators and designers thrive on a common goal to enhance clients' lifestyles with convenient, imaginative designs and solutions that not only transform spaces but also improve the human condition. As home technology continues to deliver the lifestyle simplicity and aesthetic appeal homeowners crave, designers should keep an eye on these five technology trends.
Welltech Upgrades to Inspire Design
Wellness technology, or welltech, has been on the rise for years but has especially seen a boost since the pandemic's onset. This emerging category empowers health-conscious homeowners to take control over how their spaces can enhance their well-being and healthy lifestyle choices. To meet the demand, builders and designers must be prepared to take on fast-evolving categories like indoor air quality, water quality and monitoring, human-centric lighting, exercise tech and sleep tech.
When integrated into existing monitoring systems, welltech can be automated to keep the home healthy when people are there and conserve energy when they are not. Integrators and designers should begin projects with an open dialogue to understand the lifestyle and wellness goals of the client, gaining an understanding of how they live and what their routines look like to specify a tailored blend of solutions.
Dynamic Art & Entertainment Transform Spaces
Digital art has become mainstream, and displays and projectors are prepared to deliver versatile visuals in the connected home. Displays with "art mode" can blend into the design of a home, often resembling a framed piece of art. Projectors have evolved from their early days, too. Some art-focused projectors can shoot an image at an extremely narrow angle, allowing for a display on nearly any wall. The massive shift toward streaming and the dense proliferation of content for end users to navigate provide many opportunities for designers and integrators to create unique, bespoke systems.
Solutions to Energize the Home
Power management, monitoring, storage and creation solutions are getting more powerful, tasteful and useful. New digital power distribution panels offer consumer-friendly dashboards that give homeowners full control over their home's fast-ramifying electrical system – without complicated app interfaces. Power is becoming more beneficial to the overall usability of the
home, too. The surge in electric vehicle charging stations at home, for example, can work with the power panels to maximize charging time or adapt to use the vehicle as a power source during an outage.
High-Tech Home Offices Are Here to Stay
Though a large percentage of the workforce has been working remotely for nearly two years, the home office hasn't stopped improving. Designers and integrators can encompass professional office configurations for those with ongoing remote or hybrid work arrangements. Proper lighting, ergonomics, back drops, high-quality cameras, automated shading, collaboration technology, networking configurations and advanced AV all play a role in making the home office perfect.
As designers work to identify the right layouts, colors and visuals for the home office, the technological opportunities support efficient, seamless work experiences for clients. Favorite technologies from the workplace and residential tech space alike carry unique benefits for remote workers, and the benefits should certainly be celebrated.
Kitchens & Baths Get an Upgrade
Refrigerators that can track what the homeowner is using, faucets that will pour exact amounts of water at exact temperatures and toilets that take health screenings. Weird, helpful and state-of-the-art tech is coming to the most traffic-heavy rooms in the home, and designers should jump for joy. It is taking the kitchen and bathroom to the next level, with touch screens,
voice commands, real-time reporting and more. From whitegoods to switches and beyond, smart home technology lends a helping hand without marring the beauty of the interior designer's work.
As the connected home ecosystem evolves, it's essential that designers can tackle the latest technology trends in any project and deliver on homeowner expectations. Before taking on your next smart home project, be sure to connect with an integrator to learn more about new technologies and ensure the space delivers the benefits intended with reliability and ease.
By Giles Sutton, SVP, Product & Business Development at CEDIA
Photo: ArchiVIZ/Adobe Stock