Ace Hardware Celebrates 31 Days of Color
---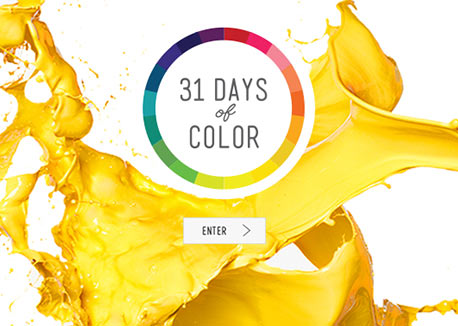 March 9, 2015
Ace Hardware has launched 31 Days of Color, an integrated color experience designed to inspire consumers to discover a new passion for color. This brand new month-long consumer program features daily paint color selections alongside expert design advice and daily giveaways, as well as a nationwide paint makeover sweepstakes.
"Color is an integral part of the design in any space of the home, and by highlighting one unique color each day, consumers have the opportunity to experience the vast range of colors available at Ace in a new and exciting way," said Katie Reynolds, Ace's design expert. "31 Days of Color is an opportunity for consumers to take advantage of Ace's know-how in color through an interactive online program designed to assist them in discovering new color inspiration and design ideas."
Every day in March, Ace is unveiling a "Color of the Day" selected from Ace's Clark+Kensington and Valspar paint lines. Consumers can discover the daily color starting at 12 p.m. EST each day via an interactive 31 Days of Color Calendar at www.thepaintstudio.com/31daysofcolor.
"31 Days of Color was designed to inspire consumers and help them identify the right color to transform their space," said Kim, Valspar color strategist. "We're excited to share new colors each day, along with design tips, to complement every consumer's personal style and give them the confidence they need to create a colorful space of their own!"
Consumers also have the opportunity to bring color to life within their homes through a paint makeover, daily Ace gift card sweepstakes, daily paint sample giveaways and in-store promotions.