American Society of Interior Designers Appoints Key Senior Staff
---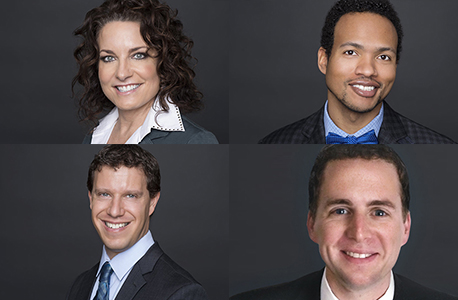 March 31, 2015
The American Society of Interior Designers (ASID) has added four new members to its senior leadership team: Jim Brewer, vice president of Government and Public Affairs; David Krantz, vice president of Research and Knowledge Management; Olga Odeide, director of Industry Partnerships; and DJ Johnson, director of Chapter Program Development.
"The last three years have been critical ones for ASID. The Society has undergone a rigorous assessment of its vision, operations,and goals to better communicate the ability of interior design to transform lives," said ASID CEO Randy Fiser. "As a result, we've hired several new staff members and created new positions to better serve our members, industry partners, and the design community as a whole. Jim, David, DJ, and Olga each bring experience and leadership skills in key areas including advocacy, research, partnerships, and chapter development."

Jim Brewer, vice president, Government and Public Affairs
Jim Brewer (bottom right) has been engaged in state and federal legislative policy work for the last eight years. Most recently he spent five years as chief lobbyist for the International Union of Painters & Allied Trades (IUPAT). His work on and off Capitol Hill during this time has been instrumental in passing federal and state legislation to guarantee the safety and well-being of the general public through training and certification requirements extensively on commercial real estate tax reform, lead paint law regulations, and labor practices. He also secured more than $61 million for the painting of the U.S. Capitol dome.
David Krantz, vice president of Research and Knowledge Management
David Krantz (bottom left) joined ASID in January as vice president of Research and Knowledge Management. In this role, he sets the research agenda, ensures best practices in research design, and ensures that ASID national and all its stakeholders – chapters, members including industry partners, consumers, and clients have the intelligence they need to make informed business decisions on the value and impact of interior design.
Krantz has spent the last 17 years working in both the public and private sectors, specializing in industry research, corporate responsibility and the built environment. Most recently, he was program director of the Center for Responsible Travel (CREST), a partnership with the tourism industry and Stanford University. CREST's focus includes social responsibility and sustainability practices.

DJ Johnson, director of Chapter Program Development

Since joining ASID in fall 2014, Johnson (top right) has quickly stepped into his role as director of Chapter Program Development at ASID and his charge of instituting change. With more than 13 years of association experience, Johnson has an extensive background in volunteer management and membership engagement. At ASID, he is responsible for bolstering the Society's 48 current chapters with enhanced support programs and will seek additional opportunities within the industry to implement an expansion strategy.
Throughout his career, Johnson has worked for both large and small associations in various capacities, including membership management, volunteer-board relations, and conference development. He is a Certified Association Executive (CAE). Prior to joining ASID, Johnson was the senior membership manager for the Drug Information Association (DIA).

Olga Odeide, Director of Industry Partnerships
Olga Odeide (top left) has a unique and diverse background, both as a 20-year sales and marketing veteran in the engineering industry and as a LEED certified interior design professional. Prior to joining ASID in December as director of Industry Partnerships, Odeide served as a business development advisor for several design and architecture firms and as a practicing interior designer. Her ability to blend design and creativity with strong business and organizational skills are keys to her success.
Odeide is responsible for managing ASID relationships with its manufacturer and supplier partners, trade shows and other design associations, and creating mutually beneficial partnerships that advance the industry and profession.