Arçelik Releases Sustainability Report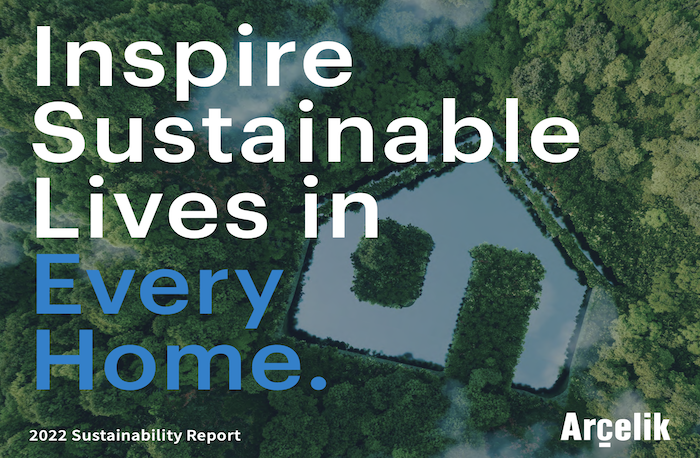 July 22, 2023
Arçelik, one of Europe's leading home appliances companies, continues to lead the industry by example in sustainability as it releases its 15th Sustainability Report. Highlighting its continued commitment to sustainability, the report reinforces the importance Arçelik lends to sustainability across its business whilst also focusing on how to inspire a sustainable life in every home.
Hakan Bulgurlu, CEO of Arçelik, commented, "As the world around us continues to change, the pressure to act faster and bolder becomes more pertinent. Now more than ever, the onus is on businesses to innovate to secure a more sustainable future – this doesn't come without its challenges. This year we continue to look towards our goals, particularly towards decarbonisation, becoming a net zero business by 2050, ensuring greater efficiency in our products, and creating a more equal society. And this year, additionally, we aim to motivate our consumers to lead sustainable lifestyles within their households to contribute to creating a greener future."
The contents of Arçelik's 15th Sustainability Report emphasises a focus on reducing carbon emissions and making efficiency improvements in the supply chain as is identified as high priority in the report. In launching its 2022 Sustainability Report, Arçelik also aims to inspire sustainable lives in every home. A good example to this is the IYI-GE platform, which stands for goodness development, an initiative that consists of scientists, representatives from NGOs, activists, and artists, to develop ideas and projects that will help create a better world.
Moving to Net Zero
Upholding its commitment to carbon reduction, Arçelik publishes its on track status to achieve Net Zero by 2050 in line with the SBTi Net-Zero Standard. Throughout 2022, Arçelik has prevented 7,525 tons of CO2 emissions with 94,324 GJ of energy saved in total from Energy Efficiency projects. In its efforts toward decarbonisation, Arçelik has already achieved 65% green electricity usage in global manufacturing operations and reached a total of 10.20 MW installed renewable energy capacity by the end of 2022. The company is also listed in the Corporate Knight's Earth Index for its practices in smart energy management.
Circular Economy Efforts: Conscious Respect for The Planet
Arçelik's substantial contribution to the circular economy through its recycling efforts has been a product of continued investment and effort over recent years. Arçelik's recycling plants have successfully recycled 1.65 million Waste Electrical and Electronic Equipment (WEEE) units since 2014 and the recyclability rate of Arçelik's products currently stands between 84%-99%. These units consist of old and high energy consuming products, which were recycled and then replaced with new, energy-efficient ones. By doing so, the company has saved 434 GWh of energy between 2014 and 2022. This is equivalent to the daily electricity consumption of about 54 million Turkish households. This quantity is also equal to the annual energy production of 69 wind turbines with a capacity of 2.5 MW each. By recycling waste products, Arçelik has prevented about 214,000 tonnes of CO2 emissions, and in terms of water, the company has saved approximately 8.3 million tonnes of water by replacing old-tech products with new ones. This quantity is equivalent to nearly 10.2 million Turkish households' daily water consumption.
Innovation: A Top Priority for a Sustainable Future
Arçelik has made significant progress within innovation across the business, having secured a position in the top 200 of the World Intellectual Property Organization Rankings (WIPO). Making substantial investments in the sustainable future of Arçelik, the company also successfully launched its first climate-friendly flagship store with platinum-level LEED certification.
Arçelik's innovation achievements are recognised worldwide, particularly by the World Economic Forum which awarded the Company's manufacturing plant in Ulmi, Romania Sustainability Lighthouse Status for its on-site sustainability measures. The Arçelik Ulmi Washing Machine Plant is Romania's first and only production unit to hold the LEED Platinum certification and uses 100% green electricity. Additionally, a "digital twin" model of the plant self-adjusts the lighting and optimizes the cooling and heating systems.
Arçelik's Commitment to Sustainability Extends Beyond the Planet: Empowering Workforce and Communities Worldwide
In addition to the conservation of the planet and the sustainability of the business, Arçelik has also focused on the sustainability of its workforce, with efforts invested to improve equality and access both within the industry and across global climates. With a view to encourage more Women in STEM, Arçelik facilitated over USD 8 million to women entrepreneurs over the course of 2022 and also continued the We-inTech program across Pakistan, Romania, South Africa and Türkiye to empower women engineers.
More globally, in 2022 Arçelik established a new partnership with Water.org to provide 10,000 Kenyans access to safe water. Arçelik employees across 50 countries also engaged in a 24-hour plogging activity which aimed to raise international awareness of sustainable living and the company also engages in further initiatives to protect marine life active through partnerships with the World Wildlife Fund (WWF) and the Marine Life Conservation Society (DYKD) to recycle fishnets rescued from the Marmara Sea.
Arçelik continues to remain committed to the climate mission. Although currently not within the scope of the Taxonomy regulation, Arçelik has voluntarily reported the taxonomy where it mapped its eligibility and alignment to the EU Taxonomy for the first time ever this year.
Through its dedication, innovation, and collaboration, Arçelik strives to be a leading force in the global fight for a better world. The company's 2022 Sustainability Report, along with its executive summary highlighting numerous recognitions in the field of sustainability, can be accessed here.